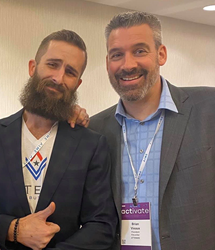 We are honored to recognize military Veterans and their families with a VettedVA 'Go Bag'
POTTSBORO, Texas AND ST. LOUIS (PRWEB) March 24, 2020
VettedVA and FinLocker recently announced a strategic relationship to provide Veterans in the VettedVA community with complimentary access to FinLocker's personal financial assistant technology.
Through this partnership, the FinLocker product has been branded as the financial 'Go Bag' for VettedVA. "A 'Go Bag' is an emergency-preparedness kit that you pack in advance, but hope you never need. "This is a financial-preparedness bag that a Veteran can load with their entire financial life", said Brian Vieaux, President of FinLocker.
With an objective of providing consumers with a tool to assist in mortgage readiness, as well as financial literacy and wellness, FinLocker is fully committed to supporting our Veteran community. According to Chris Griffith, who founded the VettedVA community, they are planning to distribute 'Go Bags' to prospective home buyers as well as Veterans looking for a tool to help manage their financial life.
FinLocker, a consumer engagement platform, delivers a reusable financial locker with personal finance tools that ready consumers for a home purchase or refinance by securely capturing and analyzing financial data, including employment, income, assets, credit, real estate and other financial information. "We are honored to recognize military Veterans and their families with a VettedVA 'Go Bag'," added Brian Vieaux, President of FinLocker. "I have watched the exciting growth of VettedVa since its launch by Chris Griffith", said Vieaux. "Chris is a veteran who is passionate about helping the Veteran community with financial wellness. When Chris shared his vision to call our collaboration a 'Go Bag', we knew we had a perfect fit. FinLocker is enthusiastic about this unique opportunity to help Veterans, and has already reached hundreds of Veterans since the initial launch of the 'Go Bag'.
"Prior proper planning prevents piss-poor performance," said Chris Griffith, VettedVA Founder and Marine Veteran. "Both active duty and discharged Veterans understand this saying. With debt specifically, those who cannot plan for the debt they will accrue, end up only saving a little money and relying on hope. This isn't the military way - yet it has been the standard until now."
"The VettedVA community has grown at an impressive pace. We hope that we can be a small part of its continued growth, as well as provide value to those who have given so much. This relationship with VettedVA will not only provide a unique value to the Veteran community, but also further enforce the FinLocker mission to 'Enable people to achieve the dream of homeownership and financial well-being," Vieaux concluded.
About FinLocker
FinLocker empowers consumers to Start, Achieve, and Continue their Homeownership Journey. FinLocker is a secure, transactional personal financial management tool that aggregates a consumer's financial data. It also analyzes, recommends, and streamlines mortgage and other financial transactions. Consumers benefit from personalized recommendations, financial and mortgage education, credit score reporting and monitoring, as well as cash flow analysis, budgeting, goal planning, data sharing and more. Financial services providers utilize FinLocker to generate leads, cross-sell value add products, reduce costs, and creates customers for life. The company is headquartered in St. Louis, Missouri. For more information, please visit http://www.FinLocker.com or email brian.vieaux@finlocker.com.
About VettedVA
The VA Home Loan Guarantee is where we plant our flag because we believe equal access to affordable homeownership is an inherent opportunity for every individual, and the lowest common denominator for financial success in America. Further, we believe Veterans are frequently targeted, and discriminated against as a definable 'class of consumer'. Our goal is to help prevent Veterans from experiencing discrimination, price gouging, or violation of privacy when purchasing or refinancing a home.
VettedVA seeks to resolve these issues through accountability, community, collaboration, and cooperation. We seek to create a new standard to serve Veterans in fully utilizing their VA Home Loan Guarantee. VA benefit terms and service are clearly defined; each Veteran's service purchased these Equal Credit Opportunity rights and benefits through their years of dedicated service. VettedVA helps ensure that benefits of homeownership are available to all Veterans.