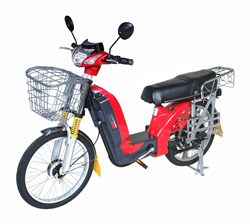 "We've been wanting to provide people with an affordable eBike that has all the features they need to stay safe, while still getting them where they need to go in a fun way."
Los Angeles, CA (PRWEB) August 27, 2015
While other eBike manufacturers tend to maintain a focus on design, the VEXA500 electric bike team put their focus on the safety of their riders. With features, like side-view mirrors, blinkers and a brake light, riders can rest assured knowing they'll be seen on busy roads, day or night. The team behind VEXA500 just recently made their debut on Indiegogo and is looking to raise a total of $100K to bring these safe eBikes to the streets of the U.S.
The safety of riders wasn't the only concern for the VEXA500 team; they also wanted to ensure that the safety of the bike itself would be addressed. The electric bike comes equipped with a built-in alarm system, key fob and locking battery system to give riders peace of mind while leaving their bike unattended. The VEXA500 comes with a variety of features that make it well worth investing in:

Two-person bike seat that holds up to 350 pounds
Chain guard
Fenders and mudflaps
Two fold-down storage racks
Horn
Dashboard that shows speed, battery charge level and turn signal indicators
"Not only is this electric bike safe and secure, but it's very well put together," said project creator Jim Davis. "We've been wanting to provide people with an affordable eBike that has all the features they need to stay safe, while still getting them where they need to go in a fun way."
The VEXA500 has three speeds that allow it to reach up to 20 miles per hour, without pedaling. The 60V battery gives riders up to 34 miles of motorized ride time, depending on various factors, but can easily charge in a few short hours. The battery charger easily fits in the large front basket and the VEXA500 can be charged using any regular 110V outlet, while at work or on campus, for those longer rides.
These eBikes are now available for purchase on Indiegogo for $748 with shipping included in the continental United States. Backers can choose a VEXA500 in one of four colors: red, black, sky blue or dark blue. For more information about the VEXA500 and its myriad of features, visit http://bit.ly/VEXA500IGG or contact stephanie@vexa500.com.
ABOUT VEXA500 ENTERPRISES
VEXA500 Enterprises is a new company that was formed to bring a very affordable, feature-packed electric bicycle to the United States. The Principal of the company has over 40 years of manufacturing and distribution experience. For more information, visit http://bit.ly/VEXA500LP.