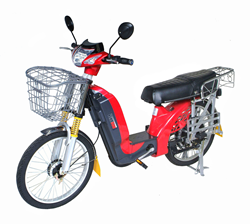 "We're excited to bring backers an eBike that offers the most features and won't cost them a fortune."
Los Angeles, CA (PRWEB) August 17, 2015
VEXA500 Enterprises launched an Indiegogo campaign today and is looking to raise a total of $100K. The VEXA500 electric bike is determined to offer commuters a greener, more affordable form of transportation in the U.S. and Canada. With the most features for the most affordable price of $549, VEXA500 brings teens, college students and cyclists everywhere an exciting new ride that won't break the bank.
The VEXA500 is the perfect way for daily commuters to lessen their carbon footprint while eliminating the need for gasoline. It cost less than 5 cents a mile to ride an eBike versus the 71 cents it cost to run a car, which includes energy cost and purchase price. This eBike contains a multitude of features that offer riders a greener form of transportation:

The two fold-down storage platforms easily hold groceries, backpacks, beach towels and more.
The VEXA500 bike saddle can hold two individuals up to 350 pounds.
Commute daily and run errands with the 500-watt electric motor that reaches speeds up to 20 mph without pedaling.
For extra exercise, use the pedals to ride the VEXA500 like a regular bicycle.
Get up to 35 miles of ride time without pedaling, depending upon certain conditions and terrain.
"We're excited to bring backers an eBike that offers the most features and won't cost them a fortune," said Jim Davis, head of the VEXA500 team. "Hopefully it will help increase the use of eBikes and help backers save money for more important things."
Since most states don't require eBike riders to have a driver's license or registration, the VEXA500 is perfect for high schoolers, college students and big city commuters. The VEXA500 is designed to save riders money on taxes, expensive repairs, parking and registration fees. It contains more features than any other eBike on the market that is available for the affordable price of just $549.
VEXA500s are now available for purchase on Indiegogo for $549, which is $346 less than the future market retail value. Supporters of the VEXA500 can choose their eBike in one of four colors: red, black, sky blue or dark blue. For more information about the VEXA500 and its myriad of features, visit http://bit.ly/VEXA500IGG or contact stephanie(at)vexa500(dot)com
ABOUT VEXA500 ENTERPRISES
VEXA500 Enterprises is a new company that was formed to bring a very affordable, feature-packed electric bicycle to commuters. The Principal of the company has over 40 years of manufacturing and distribution experience. For more information, visit http://bit.ly/VEXA500LP.