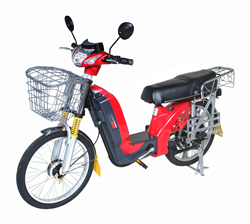 Los Angeles, CA (PRWEB) August 10, 2015
VEXA500, the commuter-friendly eBike, will be launching an Indiegogo campaign on August 17 to raise a total of $100K in order to bring the eBike to the states. This affordable, urban eBike works to get riders where they need to go in a smarter, faster and greener fashion while keeping cash in their pockets.
The VEXA500 gives riders the ability to save money on gas and expensive parking fees, while lessening their carbon footprint. This eBike is jam-packed with features, similar to that of a motorcycle, but still has the ability to ride like a bike when necessary. Riders can use the right handgrip controls to shift through three speeds as they make their way to the beach or grocery store and use the two parcel storage racks to strap on towels or groceries. The VEXA500 even comes with a built-in alarm system that will go off if anyone attempts to move the bike while unattended.
The VEXA500 eliminates the hassle of having to deal with registration and insurance; plus most states don't require driver's licenses to ride eBikes. Whether users decide to ride their VEXA500 to campus, the grocery store, work or the beach, this eBike is unlike any other on the market and contains a multitude of features, which include:

A powerful 500-watt electric motor
3 different speeds reaching up to 20 mph
Telescoping hydraulic front forks
Bike saddle that seats two riders, holding up to 350 pounds
Built-in alarm system
Locking battery housing
Two fold-down storage platforms
The VEXA500 serves as the perfect substitute for any car or motorcycle. Big city residents can ride their VEXA500 to work, charge it over the course of the workday, and have plenty of charge to get home and even stop by the grocery store. The VEXA500 comes with a compact battery charger that plugs into any common 110V outlet and fits easily in the front wire basket. While other eBikes on the market might contain some of these features, no other eBike has them all for such an affordable price.
The earliest of backers will soon be able to purchase a VEXA500 on Indiegogo for $549, which is $346 less than the future market retail value. For more information about the VEXA500 and its myriad of features, visit http://bit.ly/VEXA500LP or email stephanie(at)vexa500(dot)com.
ABOUT VEXA500 ENTERPRISES
VEXA500 Enterprises is a new company that was formed to bring a very affordable, feature-packed electric bicycle to the United States. The Principal of the company has over 40 years of manufacturing and distribution experience. For more information, visit http://bit.ly/VEXA500LP.