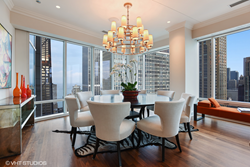 With this new offering, VHT Studios changes the game and provides the appropriate levels of flexibility, selection and support to our clients to make the process easier and more convenient than ever before.
ROSEMONT, IL (PRWEB) February 04, 2019
VHT Studios®, the nation's leading provider of professional photography and visual marketing services to the real estate industry and a variety of commercial businesses, today introduced the VHT Studios Photography Suite, a flexible tiered array of services designed to help professionals better serve their clients with a more effective and better matched offering for every property. Following its initial rollout in the state of Florida last year, the new tiered suite of services is now available to real estate and commercial businesses nationwide.
VHT Studios' recent innovations are a dramatic reversal to the photography industry practice of offering a set number of photographs chosen by a randomly selected photographer assigned to the shoot. VHT Studios' new approach provides the ultimate in flexibility, convenience and control, providing the perfect match of photographer according to the level of the project, and the ability for clients to choose their final images from a selection of fully-edited professional photographs.
"In our 20-plus years' history, we've learned that 'one size does not fit all' and every home and all properties deserve to have their stories told with the photography and visual marketing that best presents its unique features," said Brian Balduf, CEO and Co-Founder, VHT Studios. "Realtors® and businesses across the U.S. require the flexibility to choose the photography offering that works specifically for each unique listing and every property's needs. Our tools have helped homes and properties go-to-market, sell and rent faster at the best price. We are confident that our new Photography Suite will redefine the property photography industry."
This new, simplified offering gives real estate and commercial property marketing professionals the perfect solution to market the widest variety of properties and listings, from starter homes to luxurious and grand estates, office complexes, senior living facilities, vacation rentals and REO properties. The Photography Suite offers three series – Platinum, Gold and Silver -- to help clients customize which VHT Studios' services are most appropriate for each property they are marketing.
VHT Studios' national network of local photographers earn their certification through the company's team of master real estate photographers using a detailed evaluation process that surpasses industry standards. Photographers are certified and skilled in advanced techniques and special standards, many with years of experience shooting mansions, estates, celebrity homes, multi-family developments and other fine properties. When a photographer is assigned, VHT Studios' groundbreaking approach now empowers clients to match the right photographer with the specific property they are marketing and listing.
"To say that quality photographs are important is an understatement," says Toni Lee, Broker-Associate, The Corcoran Group. "VHT Studios has earned the 'Blue Ribbon' in my book as my go-to photography provider. To have a photographer who viscerally 'grabs' the photo story and who can see beyond my own untrained eye is paramount in successfully marketing a property. VHT Studios' commitment to service and outstanding customer experience sets them apart."
On-Demand Review & Delivery is another way that VHT Studios now provides real estate and commercial business professionals more flexibility and greater control. This new and unique, proprietary system allows VHT Studios' clients to preview and select from all their fully pre-edited, marketable photographs in real time, as soon as Studio Image Specialists have completed all image edits and enhancements. Their final choices are instantly available for download and distribution by VHT Studios to clients' media partners, and as print-ready images.
Until now, the average time from photography session to clients' photography receipt was, on average, two to three days. Today, images are edited and ready for use the very next business day, just as soon as clients have reviewed and made their selections. VHT Studios also stores the additional images in its database, in case clients want access to them at a future date.
"VHT Studios' On-Demand Review & Delivery platform allows me to do more than just purchase a rigid set number of photographs," said Lee. "I can choose the photographs I need from a robust selection provided by my VHT Studios' photographer, and also have the ability to re-arrange, position, delete and enhance the photographs for my unique business uses, which has made my job as a real estate agent so much easier."
"Selling, marketing or renting any property can be a challenge, but with this new offering VHT Studios changes the game and provides the appropriate levels of flexibility, selection and support to our clients to make the process easier and more convenient than ever before," Balduf said.
VHT Studios marries the latest visual marketing tools with the best-in-class architectural and real estate photography in the following three series in the Photography Suite:
Platinum Series
Ideal for luxury listings and all fine properties with architectural details that require advanced photographic techniques and a more discerning approach to presentation;
Leading, elite photographers selected for their years of experience capturing unique, custom and high-end properties for premier professionals and sellers;
Customized image optimization and enhancements included;
Creates the best possible presentation by including every feature and optional studio upgrade available.
Gold Series
Ideal to perfectly showcase vivid and fine details in every room, beautiful views and eye-catching indoor and outdoor spaces;
Blue Sky and Virtual Tour Video included;
VHT Studios Clearshot™ system boosts every photograph's brilliance, sharpness and clarity;
Image specialists review and work with each image;
Top creative photographers selected.
Silver Series
Ideal for basic office spaces, starter homes, apartments, studios, condos and townhomes;
Single-frame photographs captured by skilled professional photographers using natural light to produce balanced imagery;
Convenient, quick and economical;
VHT Studios photographers and professionals save valuable time for clients by enhancing images so they are ready to go.
VHT Studios invites real estate and commercial property marketing professionals to view galleries of stunning photography. Click here for a gallery of high-resolution, downloadable real estate and aerial drone photography and videos. Click here for VHT Studios' Virtual Staging Suite, including Virtual Twilight, Virtual Furnish and Stage, Virtual Redecorate, Virtual Paint, and Virtual Declutter.
About VHT Studios
VHT Studios, the industry founder, in 2018 celebrated twenty years of serving real estate and business professionals. Since 1998, VHT Studios has delivered excellence in professional photography, virtual tour videos, virtual staging, interactive and standard floor plans, drone photography and video, 3D tours, and image management services to top professionals looking to become even more successful. VHT Studios' services ensure properties get seen more, sell and rent faster and at a greater price, which also helps attract new clients. A full-service partner to leading real estate agents, brokerages and commercial businesses, the VHT Studios team delivers the most powerful marketing and selling tools – starting with high-quality photography -- through creation and final display.
With an unrivaled nationwide network of the top professional photographers and image specialists, VHT Studios' partnership programs are an affordable, valuable investment for commercial business marketing professionals and real estate brokerages and agents, who expect their properties, businesses and listings to be seen whenever and wherever buyers and leasees search, and for brokers looking to recruit and retain top agents. Based in Rosemont, Illinois, VHT Studios has photographed more than 10 million rooms and helped more than 200,000 real estate and business professionals sell and rent more than $200 billion in properties since the company's founding. For more information, visit http://www.vht.com, https://www.facebook.com/VHTStudios or https://twitter.com/VHT_Studios, https://www.linkedin.com/company/vht/.