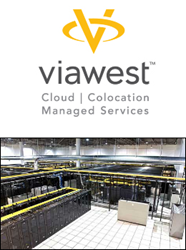 Sandy, Utah (PRWEB) April 07, 2014
Telarus, Inc., distributor of business data, voice and cloud services, today announced that it has entered into an agreement with ViaWest, the leading colocation, managed services, and cloud provider in North America. Under the agreement, Telarus partners will now have access to ViaWest's broad portfolio of data center, managed services and cloud solutions to market to businesses of all sizes.
"ViaWest is pleased to enter into this partnership with Telarus, a respected master agent," said Sean McCaffery, Vice President of Channel Sales for ViaWest. "This partnership extends our market scope and enables Telarus agents to meet the increasing market demand from businesses who are looking for reliable solutions to protect their IT infrastructure and scale into managed services and cloud solutions to address their growing data requirements." ViaWest differentiators include:

A 100% network, systems and power uptime guarantee plus 100% customer satisfaction guarantee
27 data centers throughout the Western United States
A cloud solution that leverages best of breed technology leaders VMware and Cisco to offer public, private and hybrid cloud solutions
Compliance reports/accreditations: SSAE 16 SOC1, SOC2, SOC3, HIPAA Report for Physical Controls, PCI DSS Sections 9 & 12, and NIST 800-53 Physical and Environmental Controls along with a dedicated compliance department to support customers in meeting their requirements
The industry's first Tier IV Design Certified multi-tenant data center in North America
24x7 support from experienced engineers and Remote Hands services
"We are very excited to have ViaWest as one of our anchor data center suppliers as we roll out the Telarus Data Center Tool." said Telarus' Vice President of Business Development Lanny Gray. "This is a tool that is only available to Telarus partners, and because of this our partners can now access very detailed information about the best of breed data centers, like ViaWest, 24/7. We chose ViaWest as one of our anchor data center suppliers because of their stellar reputation, their state of the art facilities, their enthusiasm about the channel and above all, the integrity and professionalism they display at every level of their organization."
For a 4-minute online demonstration of the Telarus Data Center Tool go to: http://www.datacentertool.com
About ViaWest
ViaWest is the leading colocation, managed services, and cloud provider in North America. They enable businesses to leverage both their existing IT infrastructure and emerging cloud resources to deliver the right balance of cost, scalability and security. Their data center services include a comprehensive suite of fully compliant environments, premium wholesale and retail colocation, private and public clouds and managed services. For additional information on ViaWest, please visit http://www.telarus.com/carrier-information/viawest.html or follow ViaWest on LinkedIn, Twitter or visit their YouTube channel.
About Telarus
Telarus, Inc., a value added distributor that holds contracts with the world's leading commercial telecommunication carriers, makes it easier and more profitable for solution providers, VARs, and MSPs to sell and source voice and data WAN solutions. Our patented GeoQuote platform combines real-time carrier pricing with advanced research features and branded proposals. Telarus' experienced Sales staff is strategically focused on enterprise WAN and high-capacity bandwidth solutions, making it easier to find the best offer, every time. For its part, Telarus has been named the top Master Agent by the members of the Telecom Association in each of the past three years, the first and only company in the carrier channel to accomplish this feat. Whether you are a top producer or a voice-and-data expert just starting out on your own, there is a place for you in the Telarus community. For more information on the Telarus partner program, please visit http://www.telarus.com or call the new partner hotline at 877-346-3232.