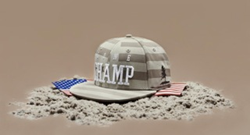 Munich, Germany (PRWEB) June 15, 2015
VICE Golf—the upstart golf company that sells its top-quality products only on the internet—has created a special commemorative cap to celebrate this week's U.S. Open Championship, being played at Chambers Bay near Seattle, Washington.
Each hat features a number of icons symbolizing the course and the single-mindedness necessary to win America's National Championship.
-On one side of the cap is a silhouette of the "lone fir," the single tree on the course, which is located behind the 16th green along the edge of Puget Sound
-The front of the cap reads "Lone Champ," honoring the perseverance and dedication exhibited by whichever individual triumphs after four days on what promises to be one of the most dramatic and challenging U.S. Open courses in history
-The overall motif—a sand-colored version of America's stars-and-stripes—is randomly created, meaning each hat's design will be unique and, like both the course and the eventual champion, an individual.
VICE Golf—best known for its golf balls, two of which recently were awarded a Gold Medal by Golf Digest in its 2015 "Hot List"—occasionally creates special hats in honor of major championships and other significant golf events. These hats sell out within hours of being offered on the vice website, vicegolf.com, which is followed by an outcry among those who missed the chance to buy these limited-edition keepsakes.
The "Lone Champ" hat is now available from vicegolf.com, along with all four VICE Golf balls and the Pure glove.
Learn all about this highly innovative company and its range of distinctive products for the discriminating golfer at vicegolf.com.
To order, visit http://www.vicegolf.com/us