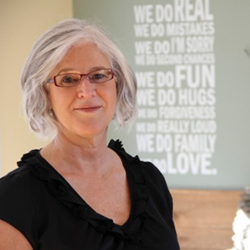 Holding regular Family Meetings is just one element of Hoefle's approach to help parents stay connected with their kids.
Boston, MA (PRWEB) June 25, 2014
Bibliomotion is thrilled to introduce their first 30gurus course: 'Family Meetings' with parenting author and expert, Vicki Hoefle.
Holding regular Family Meetings is just one element of Hoefle's approach to help parents stay connected with their kids, while giving them the space they need to live and learn. In this three-part course, she gives parents a framework for holding Family Meetings, including picking time, space, the agenda, and walking them through all pieces to make this grounding family ritual successful. Even better, because the course is interactive and collaborative, parents get to learn what's working and what's not from other participating parents.
Part 1: Introduction to Family Meetings. Parents will learn the necessary foundations for introducing new Family Meetings and inviting children to participate.
Part 2: Learn how to begin Family Meetings on the right foot by introducing family members to Appreciations and Allowance.
Part 3: Learn how to round out Family Meetings by introducing Contributions and Problem-Solving.
About Vicki Hoefle:
Vicki Hoefle is a professional parent educator and the creator of the Parenting On Track™ Program. Vicki Hoefle began teaching more than 20 years ago, while running a daycare center in Seattle, WA. Parents applauded her approach with their children, and wanted to bring her tools and understanding of children home with them. After years of study and everyday practice, Vicki developed the Parenting On Track™ Program, which combines her expertise in Adlerian Psychology and as an ICF certified coach with a suite of time-tested tools. Vicki can speak firsthand to the real world implementation of these strategies with her own family of five children. For more than two decades, Vicki has shared her parenting tips and techniques with families across the country. Her informative and highly engaging presentation style keeps her in demand as a speaker, facilitator, and educator.
Vicki is the author of Duck Tape Parenting: A Less is More Approach to Raising Respectful, Responsible, & Resilient Kids.
About 30gurus:
30gurus is a virtual learning site designed for those who love to learn. The courses are active learning experiences, with the spark provided by the instructor, and the kindling by the participants, collectively. The results are predictably surprising.
About Bibliomotion:
Bibliomotion is a book publishing house designed for the new publishing landscape. While many publishers work to retrofit old processes for new realities, Bibliomotion was founded by book-industry veterans who believe the best approach is a fresh one – one that focuses on empowering authors and serving readers above all else. Moving away from the top-down model that has dominated the publishing process for years, we give each member of the team – including the author – a seat at the table from the very beginning and in doing so, work side-by-side to launch and sell the best content possible, making it available in a variety of forms.