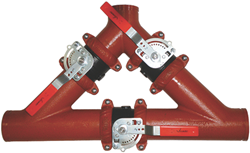 Easton, PA (PRWEB) October 01, 2014
Victaulic, the world's leading manufacturer of mechanical pipe-joining systems, introduces the Style DLY Delta-Y assembly, a combination of pre-assembled Victaulic cast grooved fittings, rigid couplings and butterfly valves. The Delta-Y assembly is designed specifically for bulk cement/barite systems on offshore oil platforms and is also ideal for drilling mud and other associated systems. The Delta-Y assembly offers quick and simple installation, space and weight savings, efficient operation and reduced maintenance downtime.
The Victaulic Delta-Y assembly speeds fitting and valve installation. Each pre-assembled unit is delivered complete with all fittings and valves oriented correctly as required by system design. The unit is joined to the piping system with three Style 107 QuickVic® rigid couplings, easing installation.
In comparison to flanged and welded assemblies, the Victaulic Delta-Y offers significant weight and space savings. At less than half the weight of lug butterfly valves with flanges, Vic-300 MasterSeal™ butterfly valves provide considerable weight reduction. Weight savings can exceed 200 pounds (91 kilograms) per delta. In addition, the Delta-Y can reduce the overall delta length by 1 foot (300 millimeters).
The Delta-Y assembly improves the operational efficiency of cement/barite piping systems. The offset disc within the valves provides a larger flow area for more efficient flow, low operating torque and leak-tight sealing. The fittings maintain full wall thickness and have a smooth inner flow path to minimize abrasion and blockages. The Delta-Y assembly is also available with 5D Long Sweep fittings that increase fitting life and maximize flow capabilities for faster cementing operation.
The Delta-Y assembly can reduce maintenance downtime by up to 50 percent, as each coupling serves as a union for rapid valve and fitting replacement.
The Victaulic Style DLY Delta-Y assembly is available in 5- and 6-inch pipe sizes (125 and 150 millimeters) and has a pressure rating of 300 psi (2,065 kPa).
For more information about the Delta-Y assembly and other solutions for the oil and gas industry, visit http://www.victaulic.com/ogc.
About Victaulic
Since 1919, Victaulic has been the world's leading producer of grooved mechanical couplings and pipe-joining systems. Used in the most demanding markets, Victaulic innovative piping technologies and services put people to work faster while increasing safety, ensuring reliability and maximizing efficiency. The company has 15 major manufacturing facilities, 28 branches worldwide and over 3,600 employees who speak 43 languages across the globe. With more than 900 active global patents, Victaulic solutions are at work in 115 countries across diverse business lines including oil and gas, chemical, mining, power generation, water and wastewater treatment, military and marine, as well as commercial building and fire protection. For more information visit http://www.victaulic.com and follow us on LinkedIn, Facebook, Twitter, and YouTube.