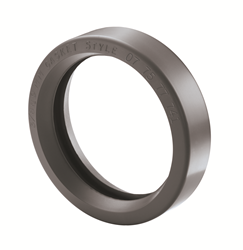 Easton, PA (PRWEB) December 09, 2014
Victaulic, the world's leading manufacturer of mechanical pipe-joining systems, has developed a new nitrile gasket for the maritime industry. The Grade T "Type A" gasket, designed for use with specific Victaulic couplings and flange adapters, simplifies gasket specification and offers superior fire-resistant performance.
The nitrile Grade T Type A gasket can be specified for a wide range of services, eliminating the need to use multiple types of gaskets for different applications and simplifying gasket selection. The gaskets may be used in Class I, II and III piping systems outside boiler rooms in accordance with Table 7 IACS UR P2. Applications include open-ended piping containing flammable liquids heated above flash point, open-ended liquefied gas, flammable liquids below flash point, sea water, fresh water, sanitary/drains/scuppers, sounding/vent, air and other systems.
The gasket is DNV GL Type Approved as fire-resistant type when used with Style 07 ZeroFlex rigid couplings, Styles 75 and 77 flexible couplings and Style 741 VicFlange adapters. Grade T Type A gaskets in these couplings have passed fire testing in accordance with ISO 19921.
The Grade T Type A gasket can be used in oil-related services, including air with oil vapor, for temperatures up to 180 degrees Fahrenheit (82 degrees Celsius), water-related services up to 150 degrees Fahrenheit (66 degrees Celsius), and oil-free dry air services up to 140 degrees Fahrenheit (60 degrees Celsius).
For more information about the Grade T Type A gasket and other solutions for the maritime industry, visit http://www.victaulic.com/shipbuilding.
About Victaulic
Since 1919, Victaulic has been the world's leading producer of grooved mechanical couplings and pipe-joining systems. Used in the most demanding markets, Victaulic innovative piping technologies and services put people to work faster while increasing safety, ensuring reliability and maximizing efficiency. The company has 15 major manufacturing facilities, 28 branches worldwide and over 3,600 employees who speak 43 languages across the globe. With more than 900 active global patents, Victaulic solutions are at work in 115 countries across diverse business lines including oil and gas, chemical, mining, power generation, water and wastewater treatment, military and marine, as well as commercial building and fire protection. For more information visit http://www.victaulic.com and follow us on LinkedIn, Facebook, Twitter, and YouTube.