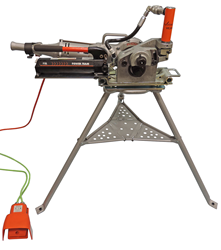 Easton, PA (PRWEB) August 14, 2014
Victaulic, the world's leading manufacturer of mechanical pipe joining and fire protection systems, introduces the VE206 portable roll-grooving tool. The tool provides a versatile, durable pipe-grooving solution to make pipe preparation more efficient in the field.
The VE206 portable roll groover improves the efficiency of on-site roll-grooving operations. Tool components are lightweight for easy transport and assembly, reducing site-to-site set-up and take-down time. An ergonomically designed tool head featuring two handles enables quick, easy on-off mounting.
The VE206 roll groover can be configured in multiple ways to meet crew and job-site demands. The versatile design enables the tool head to be securely mounted to any tripod stand with a Ridgid 300 bolt pattern or the flatbed of a work truck or roustabout truck. The hydraulic hand pump can be mounted on either side of the tool for right- or left-hand operation. The roll groover is compatible with multiple power drive units, including the Victaulic Style VPD752, Ridgid 300 and 700, and Rems Amigo 2.
Built with rugged, durable components, the roll groover is designed to withstand heavy use in the field.
The VE206 roll grooves 1¼- to 6-inch (32- to 150-millimeter) carbon steel and stainless steel pipe up to schedule 40. Optional roll sets are available to groove light-wall stainless steel and copper. Tool components include a power drive unit, hydraulic hand pump, tripod stand and a foot pedal power switch.
For more information about the VE206 roll groover and other pipe-grooving solutions, visit the Victaulic pipe preparation tools page.
About Victaulic
Since 1919, Victaulic has been the world's leading producer of grooved mechanical couplings and pipe-joining systems. Used in the most demanding markets, Victaulic innovative piping technologies and services put people to work faster while increasing safety, ensuring reliability and maximizing efficiency. The company has 15 major manufacturing facilities, 28 branches worldwide and over 3,600 employees who speak 43 languages across the globe. With more than 900 active global patents, Victaulic solutions are at work in 115 countries across diverse business lines including oil and gas, chemical, mining, power generation, water and wastewater treatment, military and marine, as well as commercial building and fire protection. For more information visit http://www.victaulic.com and follow us on LinkedIn, Facebook, Twitter, and YouTube.