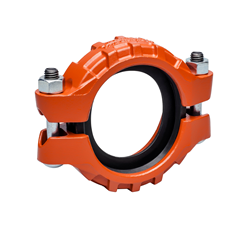 Easton, Pa. (PRWEB) July 30, 2014
Victaulic, the world's leading manufacturer of mechanical pipe-joining systems, introduces the Style 177N QuickVic® Installation-Ready™ coupling. The coupling's design eliminates loose parts, ensures consistent joint reliability and provides substantial gains in installation productivity. The Style 177N flexible coupling was specifically designed to withstand the rigors of mining environments and is ideal for utility and process piping applications in plants and underground metal and coal mines.
The Style 177N QuickVic coupling can be installed up to ten times faster than other pipe-joining methods and twice as fast as existing grooved couplings. Featuring Installation-Ready technology, the Style 177N does not require disassembly prior to installation, eliminating loose parts. The coupling is pushed onto a grooved pipe-end as a fully assembled unit, connected to a second grooved pipe-end, and tightened using standard hand tools or an impact wrench. The gasket's integral central leg serves as a pipe stop, ensuring full pipe insertion, and metal-to-metal bolt-pad contact provides visual confirmation of proper assembly.
The Style 177N is a flexible coupling that permits a limited amount of linear and angular movement at the pipe joint to accommodate expansion, contraction and deflection.
The Style 177N is available in 2- to 6-inch sizes (50 to 150 millimeters) and accommodates pressures ranging from full vacuum (29.9 inches Hg/760 millimeters Hg) up to 1,000 psi (6,900 kPa). The coupling is supplied with a grade "EHP" EPDM gasket for water services or grade "T" nitrile gasket for air services.
The Style 177N is an addition to the Victaulic Installation-Ready coupling family, which includes the Style 107 rigid coupling. Installation-Ready couplings join standard roll-grooved and cut-grooved steel pipe.
For more information about the Style 177N QuickVic coupling and other solutions for the mining market, visit the Victaulic mining piping systems page.
About Victaulic
Since 1919, Victaulic has been the world's leading producer of grooved mechanical couplings and pipe-joining systems. Used in the most demanding markets, Victaulic innovative piping technologies and services put people to work faster while increasing safety, ensuring reliability and maximizing efficiency. The company has 15 major manufacturing facilities, 28 branches worldwide and over 3,600 employees who speak 43 languages across the globe. With more than 900 active global patents, Victaulic solutions are at work in 115 countries across diverse business lines including oil and gas, chemical, mining, power generation, water and wastewater treatment, military and marine, as well as commercial building and fire protection. For more information, visit http://www.victaulic.com and follow us on LinkedIn, Facebook, Twitter, and YouTube.
# # #