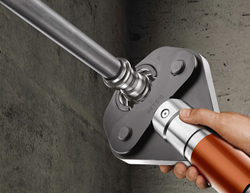 Easton, PA (PRWEB) July 10, 2014
Victaulic, the world's leading manufacturer of mechanical pipe-joining systems, has received type approvals from American Bureau of Shipping (ABS), Bureau Veritas (BV), Det Norske Veritas (DNV), Korean Register and Lloyd's Register for Vic-Press, a flame-free press system for joining small-diameter stainless steel pipe. With these new approvals, more shipbuilders will be able to take advantage of Vic-Press as a quick, simple, safe and reliable means of joining stainless steel pipe in new-vessel construction, retrofit and repair operations. The system is approved for use in class III piping systems for marine and offshore applications.
Vic-Press creates rigid, permanent, leak-tight joints in seconds. Pipe is cut to length and deburred, marked for visual verification of full insertion, then inserted into a coupling or fitting. A handheld pressing tool is used to compress the coupling/fitting onto the pipe-end. Patent-pending press-detection technology enables the installer to identify unpressed joints as the system is filled and tested. With no flame, arc or cutting oil and little preparation time required for installation, Vic-Press is a safe, efficient alternative to welding, threading and flanging.
The Vic-Press system works with Schedule 10S Type 316 stainless steel pipe. A standard size, Schedule 10S pipe is readily available off-the-shelf and offers greater strength and durability than light-wall tube.
The approved Vic-Press product range includes couplings, tees, elbows, reducers, end caps and adapters in sizes ranging from ½ to 2 inches (15 to 50 millimeters), with a maximum pressure rating of 232 psi (16 bar). Gasket materials are available in HNBR, EPDM and fluoroelastomer (BV and DNV only), with maximum temperature ratings as follows:

HNBR: -20 to 210 degrees Fahrenheit (-29 to 98 degrees Celsius)
EPDM: -30 to 250 degrees Fahrenheit (-34 to 121 degrees Celsius)
Fluoroelastomer: 20 to 300 degrees Fahrenheit (-7 to 149 degrees Celsius)
The new type approvals are valid through the following dates:

ABS: November 25, 2018
BV: October 30, 2018
DNV: June 30, 2018
Korean Register: November 4, 2018
Lloyd's Register: August 29, 2018
Vic-Press also has type approval from Germanischer Lloyd, valid through August 1, 2018.
For more information about Vic-Press or to view the approval certificates, please visit the Victaulic marine piping systems page.
About Victaulic
Since 1919, Victaulic has been the world's leading producer of grooved mechanical couplings and pipe-joining systems. Used in the most demanding markets, Victaulic innovative piping technologies and services put people to work faster while increasing safety, ensuring reliability and maximizing efficiency. The company has 15 major manufacturing facilities, 28 branches worldwide and over 3,600 employees who speak 43 languages across the globe. With more than 900 active global patents, Victaulic solutions are at work in 115 countries across diverse business lines including oil and gas, chemical, mining, power generation, water and wastewater treatment, military and marine, as well as commercial building and fire protection. For more information visit http://www.victaulic.com and follow us on LinkedIn, Facebook, Twitter, and YouTube.
# # #