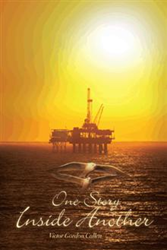 Cullen says of his inspiration for this book, "I enjoyed the thought of these gulls enjoying a highly organized social life, which supported a well-developed system that included all that manking applies to his own world."
HUNTLY, Scotland (PRWEB) October 13, 2014
Author Victor Gordon Cullen draws on his experiences as an oil rig worker to write his new book "One Story Inside Another" (published by Trafford Publishing).
Set in the North Sea on an oil rig, "One Story Inside Another," as the title indicates, is two stories bound within one book. Harry Lloyd is a worker on an oil rig. He notes the gulls who have made the rig their home but never does he imagine that the gulls have a culture all their own. This book is the story of both Harry Lloyd and the gulls that occupy his surroundings.
Cullen says of his inspiration for this book, "I enjoyed the thought of these gulls enjoying a highly organized social life, which supported a well-developed system that included all that mankind applies to his own world."
An excerpt from "One Story Inside Another":
"A vast ocean of energy surrounds the time and space in which all things exist. From this energy, all things that once was, is, and will be were and would be made. They share a common beginning and will ultimately share a common end. All things that have been made are connected, one to the other. Science is now searching for its holy grail, and when it is found, prediction suggests it will be a hidden principle linking together and describing the story of everything."
"One Story Inside Another"
By Victor Gordon Cullen
Hardcover | 6 x 9 in | 482 pages | ISBN 9781490733418
Softcover | 6 x 9 in | 482 pages | ISBN 9781490733401
E-Book | 482 pages | ISBN 9781490733395
Available at Amazon and Barnes & Noble
About the Author
Victor Gordon Cullen was born in the northeast of Scotland. He went to work in the oil field in 1970. "One Story Inside Another" is his first published novel.