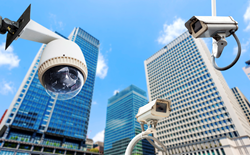 It's crucial we prevent these burglaries from increasing. Millions of dollars are snatched away from business profits each year because of poor security fit out.
Melbourne, Australia (PRWEB) December 21, 2014
With Christmas only a few days away, many businesses are preparing to take a break after a whole year of hard work. But before they close up shop, it's important for business owners to understand the risks their unattended premises will be taking and how to prevent anything untoward from happening.
The New South Wales Bureau of Crime Statistics and Research reported that in Sydney alone, there is an average of 2,300 cases of breaking and entering during the holiday season. For a business owner that will be leaving a shop unattended even for just a day, that fact is a cause for concern.
Omega Security Solutions, a leading security company based in Victoria share their top 5 tips on how commercial premises can be kept safe during these celebrations.
1. Install security cameras. Surveillance videos are excellent in preventing a crime, making would-be burglars have second thoughts. The videos also serve as key evidence.
2. Clean the letterbox. A letterbox overflowing with mail is a big indication that nobody's monitoring the premises.
3. Keep areas well lit. Install lighting systems with motion sensors that automatically turn on once it detects movement.
4. Lock the safe. It's a surprising fact that many business owners leave their safes unlocked for easy access. Simply locking the safe will reduce chances of theft dramatically.
5. Get professional advice. Hire a security expert to analyse security shortcomings and who can recommend the best solution for that particular business.
"Businesses are the driving force of the Australian economy. It's crucial we prevent these burglaries from increasing. Millions of dollars are snatched away from business profits each year because of poor security fit out," says Ben Dougall, Director of Omega Security Solutions. "Be preventative this year, our tips can potentially save your business from becoming part of the criminal statistics."
To find out more about Omega's range of security options for all budgets, including video surveillance, visit http://www.omegacorp.com.au/video-surveillance
About Omega Security Solutions
Since 1973, Omega Security Solutions has been helping Australians protect their homes and their businesses. With humble beginnings as a small family business, their solid integrity and impressive work ethic have made them become recognised today as an industry leader in providing the latest security technology products. The company slogan has remained the same over the decades: "Good security is good business."