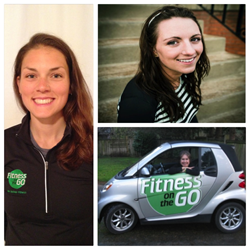 Victoria, BC (PRWEB) April 28, 2014
Fitness on the Go in-home personal trainers deliver fitness to your home whether you live in Sooke, Sidney, or anywhere in between. Their certified personal trainers have been delivering fitness to clients on Vancouver Island since 2013, but have recently expanded into Victoria as of January 2014. Fitness on the Go is a Canadian owned in-home fitness and personal training company that is dedicated to helping communities achieve a healthier and fitter lifestyle.
Fitness on the Go makes exercise easy and accessible by bringing an individualized program and a qualified in-home personal trainer to you. They understand that today's society schedules are busy, children's activities come first, and gyms can be crowded, intimidating and unfriendly. Their personal trainersin Victoria will work with your schedule to ensure you get a workout when it is convenient for you.
With Fitness on the Go you can forget about early mornings or rush hour traffic just to get to a gym. You do not need a gym to get fit; there are many other ways to get in shape and one of the best ways is in the comfort of your own home. Fitness on the Go will not only come to your home to help you get fit, but will work with you to develop a customized fitness plan that will help you reach your goals. You do not need any equipment - all that is required is some floor space in your home, some time out of your schedule, and positive attitude.
Your Victoria personal trainer from Fitness on the Go is comprised of three professional, passionate, and knowledgeable personal trainers:
Kylie Rencher is the lead trainer with Fitness on the Go Victoria and has been in the fitness industry for 5 years. Kylie is member of the Canadian Society for Exercise Physiology, and studied at Camosun College completing the Exercise and Wellness program. Kylie specializes in fitness for weight-loss, functionality, and those who suffer from mobility issues. Kylie is passionate about helping people become fit, healthy, and confident.
Sydney Dover has been in the competitive dance industry for 18 years and has now entered the fitness world. Sydney holds a membership with the Canadian Society for Exercise Physiology. Sydney specializes in mental health and provides a program that incorporates therapy skills with fitness exercises. Sydney looks forward to sharing her knowledge to make a difference in the community of Victoria.
Susan Elo is a BCRPA certified personal trainer, and a 60+ professional who is in her third major career. She worked for the CBC for 15 years as a management consultant. In 2011 Susan decided to become certified as a Personal Trainer because she had experienced its benefits first hand and wanted to learn more. Once she completed her training, she was convinced that she could help others have fun learning to become lifelong fitness enthusiasts. Susan specializes in working with mature exercisers.
For more information please visit FitnessontheGo.ca.