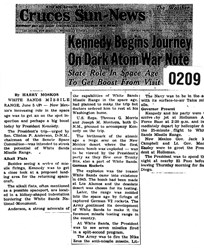 Las Cruces, New Mexico (PRWEB) October 29, 2013
Victorio Peak long remained the obsession of New Mexico treasure hunting in the 20th century. The most recent story regarding the treasure goes that in 1937, Milton "Doc" Noss discovered a treasure room with an immense amount of gold bars. This wealth, thought to be the work of Spanish missionaries who had Apache followers work a gold vein, remained hidden for decades, perhaps centuries, before discovered by Doc Noss.
"After Doc discovered the treasure he was assassinated in a gold trade deal," says author John Clarence, "Ova kept the maps he made, knew the terrain where they found the gold, and continued attempting to extract it and find buyers." The Gold Reserve Act made it illegal for any citizen who finds gold to own or trade it. By looking for private buyers in the black market, the Noss family hoped to keep some of the profit for themselves. this of course met with misfortune and tragedy.
The Army had other plans for Victorio Peak. Ova Noss was removed from her legal claim to the land by the government. According to the Gold House Trilogy, military personnel came forward telling stories of secret base operations. "We have more than a share of military personnel who saw the gold, moved it, and saw high ranking officials move around hush-hush regarding the situation," declared John Clarence. "These suspicions are strengthened by the fact that John Dean, a personal aid to Richard Nixon, even mentions Victorio Peak in his Watergate testimony. Someone knew there was gold there."
As decades went on, and the Noss family fought on, there was a dig in which several ancient items were discovered. No gold bars were found. However, John Clarence and Tom Whittle believe the gold was removed and it left a paper trail they discuss in the Gold House Trilogy.