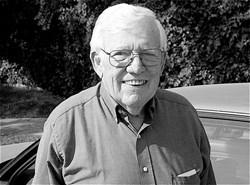 January 15, 1974 report to Director of the FBI: The firm of Handy and Harman, a Los Angeles, California gold refining firm is handling the sale of these ingots overseas.
Lace Cruces, New Mexico (PRWEB) October 31, 2013
John Clarence and Tom Whittle, co-authors of The Gold House trilogy insist FBI documents and other key papers gave the first inkling that the 1973 theft had occurred. On Monday, November 26, 1973, George Brazier, from the Office of the Assistant Secretary of the Army, reported that a "tipster" named David T. Austern had called and said 37 tons of gold had been taken from White Sands Missile Range over the holiday weekend. Austern, an attorney, was in his Washington, D.C. office 1,700 miles from the Missile Range when he phoned Brazier the morning afterward. During a recorded interview Clarence asked Austern, "How did you know that 37 tons of gold was stolen?" Austern replied, "I just don't remember."
The Gold House trilogy includes a December 3, 1973, letter from a New Mexico refinery to Lawrence Systems Inc. of Albuquerque confirming the issuance of warehouse receipts for 69 steel drums, 66 of which contained "gold ore" weighing 73,024 pounds, or 36.51 tons. An FBI document later reported that the drums contained gold ingots.
Clarence and Whittle claim that a November 27, 1973 U.S. Secret Service report revealed Gordon Hobbs, situated in Secretary of the Army Howard Calloway's office at the Pentagon, had talked with Brazier about Austern's call. Hobbs said, "He had received an intelligence report" and that "evidence of dynamiting had been discovered in an area of Victorio Peak."
The Gold House Trilogy contends a man named Dick Moyle claimed that two Secret Service agents came to visit his employer, Fred Drolte, on two occasions before the Thanksgiving weekend theft and that on the second occasion, Drolte met with the agents for 45 minutes in Moyle's living room. "I stayed outside with one of Fred's guards," Moyle said in a recorded interview. According to Moyle, Drolte claimed that then President Richard Nixon directly facilitated the theft. About a week after the theft, Moyle said, Drolte came to work and said, "It sure was a good Thanksgiving weekend," adding that "they got in and out without anybody seeing 'em."
A July 23, 1974 article in The Albuquerque Tribune reported that Drolte, described as a "one-armed pilot," was convicted in 1966 "on charges of conspiring to smuggle arms and ammunition to Latin American revolutionaries in Mexico." Clarence and Whittle also claim that during a recorded interview, Dewey Millay of Waco, Texas stated he was at the theft site and observed steel drums there and a one-armed man involved in goings-on at the site. Charles Fletcher, general manager of Handy and Harmon, a California-based refinery, told Clarence during a recorded interview that the gold he received for refining were crude ingots called "dory" bars and claimed they came from New Mexico.
A January 15, 1974, FBI Airtel report from the Washington Field Office to Director L. Patrick Gray disclosed, "two individuals with the bank the First National Bank in Albuquerque are handling the sale. The firm of Handy & Harman, a Los Angeles, California gold refining firm is handling sale of the ingots overseas." Nine written agreements used to monetize the gold and allegedly launder the money through Riggs National Bank in Washington, D.C. implicate a number of parties specifically named in Volume II of the trilogy, The Lies, The Thefts.