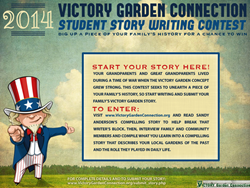 It's critical that this history be recorded for future generations. Besides the reward incentives, this contest is a great opportunity for students to get out into their communities and conduct a self-guided history project with real meaning. ~Steve Alsop
Charlotte, NC (PRWEB) May 12, 2014
Victory Garden Connection, LLC, a new hub connecting agricultural professionals and businesses with land opportunities across the United States, today announced its 2014 Student Victory Garden Story Writing Contest that aims to collect and preserve the history of WWI and WWII community gardens.
The contest, which seeks to draw attention to the history, food production methods and lessons learned in community gardens across the country at wartime, challenges students to unearth details of local Victory Gardens of the past from parents, grandparents, community members and research. Students are then asked to compile information gathered into a creative, compelling story that describes local wartime gardens, the people who worked them and the role the gardens played in daily life.
Submissions should be 500 to 1,000 words in length and include, at a minimum, basic information about where the Victory Garden was during the war, who was involved and affected, and stories captured. The contest is open to US students 21 years of age or younger and runs thru September 30, 2014. In early October, Victory Garden Connection will select 10 finalists based on overall content and historical value and will present finalists' entries for voting by the public. Authors of the three most popular submissions will receive awards including a gift card valued at $100.00 each for two runners-up and a $500.00 gift card to one grand prize winner.
"The compilation of Victory Garden and War Garden stories from World War I and World War II is now imperative as the individuals who lived and worked the gardens are currently in their late 70s or older," said Steve Alsop, founder of Victory Garden Connection, LLC. "It's critical that this history be captured and recorded for future generations. Besides the reward incentives, this contest is a great opportunity for students to get out into their communities and conduct a self-guided history project with real meaning."
For complete guidelines and details on how to enter the 2014 'Victory Garden Story Contest,' visit: http://www.VictoryGardenConnection.org/vgc-contest-2014.php.
To learn more about how the new Victory Garden Connection is making it possible for agriculture professionals, master gardeners and related businesses to locate land opportunities in their local communities, visit http://www.VictoryGardenConnection.org and join our Facebook and LinkedIn communities for news and updates.
Contact:
Steve Alsop| 704-763-0417 or info(at)VictoryGardenConnection(dot)org.
About Victory Garden Connection
Victory Garden Connection is a hub that connects agricultural professionals—individuals and businesses—with land owners across the United States and is a primary resource and database for Victory Garden stories and information. The Victory Gardens that became a part of daily life during WWI and WWII in the United States reduced pressure on the public food supply caused by the war effort.
Today, new societal pressures including food costs, industrial agriculture and unemployment, among others, have rendered Victory Gardens a viable option even today—a 21st Century solution to modern agricultural and societal problems.
The mission of the Victory Garden Connection Land Database—to which users may submit unused, available land—is to identify plots of land across the United States and to connect agriculture professionals, trained students and serious hobbyists with local opportunities.