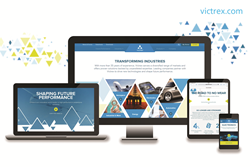 The demand for innovative material solutions is increasing across all industries. Our aim is to generate added value for customers by providing the right VICTREX PAEK solution for their demanding requirements
Thornton-Cleveleys (UK) (PRWEB) September 17, 2014
Solution-based and geared towards target industries, Victrex's new website is now available at http://www.victrex.com. It enables visitors to quickly and selectively access detailed information, save documents to their personal library and share data with colleagues. Clear messages, complemented by a fresh, modern design join forces to deliver a unique digital experience. "Shaping Future Performance" is both, the overarching motto of the website and Victrex´s driving principle. For more than 35 years, high performance PAEK (Polyaryletherketone) thermoplastics like VICTREX® PEEK, coupled with the company's know-how, have helped to increase performance in applications for key industries including Automotive, Aerospace, Energy, Electronics and Medical.
The new digital calling card of the UK-based polymer manufacturer is the perfect way to showcase the many advantages of VICTREX PAEK polymers. They are often used as a metal replacement, as they have a very high performance capability, and can be up to 70% lighter. In the aerospace or automotive industry, they help to improve fuel efficiency or enable the implementation of simpler designs which may reduce installation times. As a result of their excellent material durability, the lifespan of applications can be increased even in extremely harsh environments and maintenance intervals can be extended or efficiency improved. To reinforce this, the new website prominently displays specific figures on the achievable cost, fuel or weight savings in addition to application examples and product details.
"The demand for innovative material solutions is increasing across all industries, from automotive and aerospace to the energy, electronics and medical sectors. Our aim is to generate added value for customers by providing the right VICTREX PAEK solution for their demanding requirements," explains Ian Smith, Head of Marketing at Victrex. "The new website is an effective platform to share our PAEK polymer expertise as well as testimonials from industry leaders highlighting the benefits they see in working with Victrex to solve their toughest challenges," he adds.
An exciting and useful feature on the new Victrex.com is My Victrex. This allows visitors to create a personal library of literature, datasheets and whitepapers for future use. In addition to My Victrex, useful sharing functions are integrated to facilitate information sharing through social media or across large organizations.
The site offers a new digital experience with its design and intuitive navigation. It caters specifically to visitors' needs, no matter what device they are using or from where in the world they are accessing http://www.victrex.com. Other language versions are expected to follow shortly.
As well as strengthening the user experience, the new visual treatment, which is consistent with Victrex´s innovative style, adds a fresh flavour. The site is designed to outline the continuing developments and escalating material demands of the key markets which the company serves. It also highlights applications in which metals and other polymers have been successfully replaced with VICTREX PEEK solutions to enhance performance.
The new website also has links through to the Company's corporate site, which includes information and opportunities for prospective employees, details on the Group's sustainability policy and activity, governance policies, as well as financial and corporate announcements and presentations.
For further information and to contact Victrex experts, please visit http://www.victrex.com.