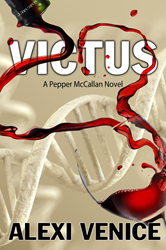 VICTUS is a rip roaring ride in reaction to the first bioterrorism attack on America in 2018.
Eau Claire, WI. (PRWEB) December 14, 2015
In VICTUS (eBookIt.com; November 2015), Alexi Venice showcases her creativity with bioterrorism, romantic subplots, and a heroine who aggressively shoots drones, defends herself with a knife and flies jets.
The story takes off when Counterterrorism Specialist Pepper McCallan and Agent Brent Cahill are called upon by President Cecil Scott to investigate a terrorist attack by a group identifying itself as Victus. Pepper and Brent fend off personal assassination attempts while investigating a pestilence of sharpshooter insects on California's grapevines, causing panic among farmers. The first bioterrorism war in 2018 on American soil has begun.
President Scott receives a blackmail letter from Victus, threatening to destroy more of America's natural resources, unless he agrees to supply free food to famished nations. The President desperately needs Pepper and Brent to solve who is behind Victus before they destroy more of America's precious natural resources.
In the midst of this intrigue, Brent's brother, Reed Cahill, fires up a blazing hot romance with Blaire Starr, a young, powerful financier in Minneapolis. Reed and Blaire attempt to keep their love affair secret from family members in Minneapolis, but Reed needs to return to his winery in Australia, and doesn't want to leave Blaire behind. Can he convince Blaire to leave her lucrative, high powered job in Minneapolis to join him at Margaret River Winery?
Meanwhile, a baby is born with "swastika tattoos" on his eyelids, just like his parents had inked on their own eyelids, inciting nationwide scrutiny and unrest as fringe groups rally and condemn. While the public is fascinated with the baby's tattoos, Pepper and Brent also are confronted with a mysterious tattoo, questioning its symbolism in relation to Victus.
Venice will be researching and writing her fourth book, Margaret River Winery, Part II, in Western Australia in January and February of 2016. Based in Busselton, Venice hopes to visit books stores, wineries, vineyards and the beach. Venice will focus her research on wineries, aboriginal culture, tarantulas, kangaroos and other details needed for a new series entitled 'STARR'S AUSTRALIA.'
Go to http://www.alexivenice.com for more information. Alexi Venice novels are available on http://www.amazon.com.
ABOUT THE AUTHOR
Alexi Venice writes thriller-romance novels featuring Pepper McCallan. The Pepper McCallan series includes Ebola Vaccine Wars, Svea's Sins and Victus, which is Part I of Margaret River Winery, a two-part story. Part II of Margaret River Winery, which takes place in Australia, will be released in early 2016. Venice's thrillers extrapolate on current events, and weave romance into nail-biting action. Venice's heroine, Pepper McCallan, travels the world on counterterrorism assignments with her hunky agent partner, Brent Cahill. Venice draws on her own experience as a practicing attorney and avid adventurist. She is married and lives in Wisconsin. See her website at http://www.alexivenice.com.
ABOUT eBookIt.com
Since 2010, eBookIt.com (based in Sudbury, Massachusetts) has helped thousands of authors and publishers get their books converted to ebook format, and distributed to all the major ebook retailers, including Amazon.com, Barnesandnoble.com, Apple iBookstore, Kobo, Sony Readerstore, Ingram Digital, and Google eBookstore.