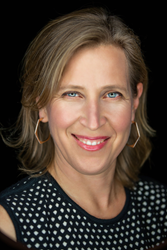 Anaheim, CA (PRWEB) March 31, 2016
VidCon (vidcon.com), the world's largest online video conference for fans, creatives and industry professionals, today announced featured speakers and panelists for the 2016 event, taking place June 23rd - June 25th at the Anaheim Convention Center in Anaheim, California. The annual three-day conference will connect more than 400 of the most innovative and influential online video creators with over 30,000 attendees for performances, workshops, discussions and networking. Additionally, the industry track alone features more than 100 online video experts and innovators sharing their insight and expertise in how to build sustainable communities, channels and franchises.
Susan Wojcicki, CEO of YouTube, returns as this year's headline keynote speaker. Other top speakers include Brian Robbins, CEO of Awesomeness TV, Jens Christensen, CEO of JauntVR, Sarah Harden, President of Otter Media, and Sean Atkins, President of MTV. This year's industry track features 16 fireside chats with industry executives, and 18 one-on-one conversations with top innovators from leading studios, production companies, and technology platforms.
Highlights of the programming include keynotes and presentations from the following experts and executives:

Susan Wojcicki, CEO, YouTube
Jens Christensen, CEO, JauntVR
Sarah Harden, President, Otter Media
Mike Sepso, Senior Vice President, Activision Blizzard
Sean Atkins, President, MTV
Brian Robbins, CEO Awesomeness, TV
Fidji Simo, Director of Product, Facebook
Jeff Seibert, Senior Director of Product, Twitter
Michael Sprague, Chief Operating Officer and Executive Vice President, Kia Motors America
David Beebe, VP Global Creative + Content Marketing, Marriott International
Mike Vorhaus, President, Magid Advisors
Rich Greenfield, Media Futurist, Media and Tech Analyst, BTIG
Mark Suster, Partner, Upfront Ventures
Jeff Jarvis, Director, Tow-Knight Center for Entrepreneurial Journalism, CUNY Graduate School of Journalism
Mark Terbeek, Partner, Greycroft Ventures
Ricky Van Veen, Co-Founder, CollegeHumor and Vimeo
Ran Harnevo, CEO, BKSTG
"This is shaping up to be the best and most insightful Industry Track ever," said Jim Louderback, Editorial Director of VidCon's Industry Track. "As the online and offline video worlds overlap and mix together, we're spotlighting the leaders of today AND tomorrow to give attendees a much clearer look into where the opportunities are now - and will be in the future."
The current lineup of speakers can be found on the VidCon website at vidcon.com/industry and tickets can be purchased at vidcon.com/registration. A complete list of Industry Track panels and keynotes will be announced in the coming months.
About VidCon
VidCon is the world's largest conference for and about online video. Held each summer in Anaheim, California, VidCon assembles fans, veteran and amateur creators, working professionals, and industry thought-leaders for three days of celebration, introspection, and discussion. Hank and John Green founded VidCon in 2010, and total attendance in 2015 was 21,000. For the fourth year in a row, YouTube has signed on as the title sponsor.
VidCon programming follows a three-track format, designed to appeal to everyone from the biggest media companies to the most passionate fans. The Industry Track features keynotes, fireside chats, seminars and product demonstrations geared toward attendees working in the online video industry. The Creator Track, now in its second year, serves attendees looking to make better content, grow their online presence, enter the industry, meet fellow creators, and learn the ins-and-outs of online video culture. The Community Track engages attendees interested in experiencing the online video culture through Q&As, discussions, concerts, interviews, movie nights, meet-ups, and games.
Though specific programming and special guests will be announced in upcoming months, VidCon experiences record ticket sales each year and routinely sells out. Anyone planning to attend is encouraged to register as soon as possible. Tickets can be purchased now at vidcon.com/registration.
About YouTube
Launched in May 2005, YouTube allows billions of people to discover, watch and share originally-created videos. YouTube provides a forum for people to connect, inform, and inspire others across the globe and acts as a distribution platform for original content creators and advertisers large and small. YouTube is a Google company.
Contact:
Julie Walsh
PR, VidCon
julie(at)vidcon(dot)com
Michelle Slavich
Head of Entertainment Communications, YouTube
slavich(at)google(dot)com
####