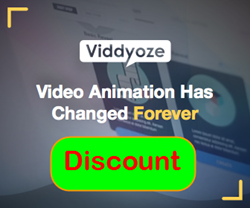 When Viddyoze re-releases to the market later this year it's going to be priced at $197 a month.
London, Unided Kingdom (PRWEB) October 01, 2015
On September 23, 2015 it was announced that Joey Xoto has teamed up with the software duo David Chamberlain & Jamie Garside to bring to the market a 100% web based 3D animation platform called Viddyoze.
Viddyoze allows the creation of logo stingers, video intros, video outros, segways, social network video animations or other animation elements right inside the user friendly browser interface.
There is no installation on the local PC or Mac required and animated 3-D videos are generated directly in the cloud and can be downloaded locally. Users simply select one of the multiple templates and choose colors or add text and Viddyoze does all of the work.
On September 29, at 11 AM EST the launch began, and in 24 hours Viddyoze had sold already more than $200,000 worth of software alone and users created more than video 4,000 animations.
All those animations were created with just a few clicks of the mouse, by users with no technical knowledge about animation or anything else.
Any interested user needs to act fast, because starting Saturday, October 2, Viddyoze will never again have offer the opportunity to join Viddyoze for a one-time fee.
When Viddyoze re-releases to the market later this year, the service is going to be priced at $197 a month. So anybody interested in saving the expensive monthly payment and get lifetime access to Viddyoze for just a one-time price should act fast.
Following a Viddyoze review summary written by Andre W. Klein.
Viddyoze PROs

Viddyoze is so easy to use that even my 80-year-old father could create amazing video elements.
The quality of the available templates is outstanding.
The software is cloud-based, no local install required.
There are diverse download formats available
The generated videos are surprisingly light-weight (i.e. a logo animation weighs only 2.6MB and a quite complex outro little more than 6 MB.

Very low investment during launch days.
Viddyoze CONTRAS
The number of templates available (30) in the base configuration could be higher, especially in the transition section (1 only!) The guys may add some more before launch date.
After launch it will be pretty expensive, especially the template club.
Currently there is no option to add an audio, but I was told that this will be added soon.
There is really little negative to say, other than some minor glitches still present in the software.
See the full Viddyoze review here and additional Viddyoze bonuses offered here...