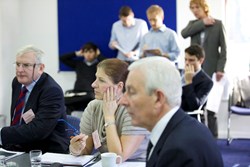 Having access to a live video conferencing facility has become a number one priority for clients - not just amongst large international companies but small and mid-size companies, too.
Lane End, Buckinghamshire (PRWEB UK) 26 October 2013
"Video conferencing is booming amongst businesses," says Lane End Conference Centre.
The leading conference venue in Buckinghamshire – one of the largest specialist conference centres in the UK – has seen a steep rise in companies using video conference technology in the past 12 months.
"Having access to a live video conferencing facility has become a number one priority for clients - not just amongst large international companies but small and mid-size companies too," said Heni Fourie, Sales and Marketing Manager at Lane End Conference Centre.
This statement comes as a global survey by Polycom reveals that 96 per cent of businesses believe that video conferencing defies distance and improves team productivity.
Of the 1,205 respondents surveyed more than half (52 per cent) also expect video to be their preferred communication tool by 2016.
"Video conferencing offers several business advantages," said Heni.
"As well as making it easier to exchange ideas with colleagues in different locations 'face-to-face', it saves time and money by reducing fuel costs and frees up time that would otherwise be spent travelling.
"Furthermore, exchanging physical meetings for online ones can make a big difference to a company's carbon footprint."
Lane End installed a direct fibre link to guarantee visitors a smooth, secure online platform for video conferencing in 2012.
Delegates hiring the conference and training venue can expect:

Free grade A+ super fast internet access – currently available to one per cent of the UK
Top speeds of up to 30 MB wi-fi and 100 MB hard-wired internet
Dedicated bandwidth for hosting UK and International video conferences
A personal laptop and large HD video display screens.
Several large companies have broadcast meetings from the international conference centre, including a global automotive supplier who successfully streamed its event to colleagues in 47 destinations world-wide.
As a purpose-built UK conference centre, Lane End has five self-contained buildings; each includes its own conference room, meeting rooms and break-out areas.
The dedicated conference centre sits within 26-acres of country grounds and is one of only a few conference venues in the UK to offer dedicated experiential training facilities.
Clients can choose from 20 experiential learning activities - each designed to develop work place skills - alongside a variety of fun physical team building challenges.
These include a range of fun activities from human football to archery and laser clay pigeon shooting.
The countryside location also makes the UK conference venue a favourite with couples seeking a picturesque wedding venue.
The Pavilion at Lane End is one of only two wedding venues in Buckinghamshire permitted to hold outdoor ceremonies in its traditional garden gazebo.
The venue offers a range of wedding packages including services from a local wedding photographer, cake decorator and florist.
Lane End village is situated in south west Buckinghamshire within easy reach of the M40 and M4. Heathrow airport is a short 30-minute drive away.
To find out more about hiring Lane End conference centre get in touch with Heni Fourie on +44 (0)845 521 3013 or visit our official website.
-Ends-
Notes for Editors:
Source: 'Global View: Business Video Conferencing Usage and Trends' conducted by Redshift Research on behalf of Polycom. Press Release, 15th October 2013. http://www.polycom.com/company/news/press-releases/2013/20131015.html
Image request: For a high-resolution image to accompany this press release or any other media enquiry call 01494 881171.
About Lane End Conference Centre: Lane End Conference Centre offers state-of-the-art residential conference facilities, set in 26 acres of beautiful Chilterns countryside just 30 miles from London.
Delegates enjoy hi-tech conference facilities, ample free parking and free broadband access on-site – all within swift and easy reach of the capital.
Lane End Conference Centre has 104 bedrooms, 32 meeting rooms, four lounge and bar areas, dining rooms, a games room with a lounge and bar, plus plenty of fitness and leisure facilities.
Tel: +44 (0)845 521 3013
Church Road
Lane End
Buckinghamshire
HP14 3HH
United Kingdom