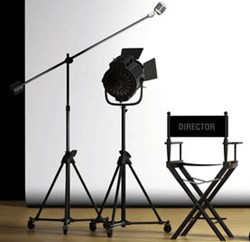 With the addition of our video equipment rental and production equipment rental services, we're pushing this envelope to extreme edges.
Jacksonville, FL (PRWEB) November 26, 2013
Multiverse Media Group, a full-service firm specializing in video production, web presence building and internet marketing, has announced its intention to now offer video equipment rentals in Jacksonville FL. Additionally, the company, amidst future plans, is now offering new equipment packages specifically geared towards the independent film crew rental market. The "Indie Kit Rentals" represent basic packages at prime weekend prices, since most local indie films are shot on weekends and with limited budgets. The concept, according to Multiverse Media Group representatives, is for each package to incorporate basic equipment required for simple productions.
From teleprompters to massive softbox light kits, Fresnel lighting, cameras, lenses, grip, jibs and more, Multiverse is constantly adding to its extensive catalog of video equipment available to rent to audio/video professionals looking for that "special touch." Whether it's bringing the best to a location or taking advantage of the company's pre-lit video production studio, the myriad of Multiverse Media Group's formidable clients rely on getting their gear from Multiverse in order to "get the shot." Examples of some of its best-selling lights and accessories include 150/300/650/1k watt Fresnels, 500/1k watt softbox lights, medium/large softboxes and practicals. Popular stands and grip include light-weight straight stands, medium-duty straight stands, C-stands, combo stands, 2x4 wall spreaders, medium flag kits and light gel kits.
In the area of cameras, Multiverse Media Group offers such items as steady cams, slider dollies, video tripods, jib/cranes, full-size teleprompter kits and a Canon DSLR Package and Black Magic Cinema Package. The company even offers a selection of related audio equipment to accompany a video production including shotgun mics, boom poles with internal cables, wireless lavaliere mics, DSLR audio adapters and more. Miscellaneous video gear includes Apple Macbook Pro setups, Thunderbolt RAID Systems, HD video capture, Davinci Resolve Portables, video monitors and more.
The Indie Film Rental packages are broken into three groupings – Package 1, a light and grip-oriented collection, will feature four Fresnel light kits with light stands, scrims, gels, C47s, gloves and extra bulbs in addition to a flag/silk/net kit, two C-stands, four sandbags, four stingers/drop cords and a bag of clamps. Package 2, an audio-based grouping, will feature a boom pole, shotgun mic, wireless lavaliere and field recorder. Package 3 is a 8 foot by 8 foot portable greenscreen kit, complete with sand bags. The packages are available for Friday to Monday rentals at a heavily discounted rate.
"Multiverse Media Group is dedicated to providing video services that produce results," says Micha McLain, Multiverse Founder, Editor and Tech Guru. "If a client is looking for a production studio Jacksonville FL or a green screen studio rental, he or she doesn't have to look any further. We make it our business to help businesses grow – on a local, national and global basis. We pride ourselves on exhibiting superior listening and communication skills, ensuring our clients not only get noticed but that they've created an invaluable lasting impression. With the addition of our video equipment rental Jacksonville, FL and production equipment rental Jacksonville FL services, we're pushing this envelope to extreme edges."
Multiverse Media Group is located at 11655 Central Parkway Suite 302 Jacksonville, FL. For more information including request for a free consultation, call (904) 701-3016 or visit http://www.multiversemediagroup.com.