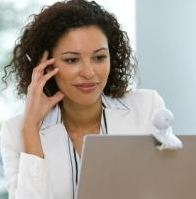 ...further legitimizes the use of video interviewing during the hiring process.
Gloucester, Virginia (PRWEB) August 04, 2014
The first ever research conducted to determine the validity of web-based video job interviewing will be presented on August 10th in Washington D.C. at the 2014 Annual APA convention.
Entitled "Exploring the Validity of Asynchronous Web-Based Video Interviews", the session will address research sponsored by Hire-Intelligence and conducted by GCG Solutions principal Dr. Charles "Allen" Gorman. The study sought to evaluate the ability of video interviews to provide valuable, job-related insights for employers who use video to screen job candidates. The research found that ratings of the applicant, applicant characteristics, and video interview responses all predicted job performance and associated work outcomes.
The study, employing Hire-Intelligence's web-based video interviewing platform, Interview4, was conducted as an initial attempt to estimate the criterion-related validity of automated web-based video interviews as a method of evaluating job candidates' likelihood of success on the job. The research results revealed a range of positive findings.
"Although the literature clearly indicates that structured interviews are valid tools for selecting employees, there was little research evidence that this was the case for asynchronous web-based video interviews," stated Dr. Gorman. "This study represents the first step towards establishing an evidence base to support the valid use of interviews conducted using this kind of technology."
"Clearly as an online video interviewing provider we are excited about the outcomes of Dr. Gorman's study as it further legitimizes the use of video interviewing during the hiring process," commented Hire-Intelligence's Jim Robinson. "Our team has experience using video to evaluate job candidates stretching back to the 1980's. Since our Interview4 video interviewing became available online we're seeing more and more companies using the technology. This research should help raise awareness of video interviewing and its benefits while helping many employers improve their hiring process."
For further information about this year's American Psychological Association convention please visit http://www.apa.org/convention/
About Hire-Intelligence:
Hire-Intelligence ("hi") is a human resources science and technology company that creates online productivity tools to increase the efficiency and effectiveness of the recruitment and hiring process. The Hire-Intelligence team has decades of experience in the human capital management (HCM) world. This knowledge of the HCM industry informs all of the hiring software and services we offer. Our goal is to provide high-value, scientifically proven tools and services to the HR world, delivering real, measurable ROI to our customers.
About GCG Solutions LLC:
GCG Solutions, LLC, is a human resource consulting firm dedicated to providing evidence-based solutions that are responsive to the needs of our clients. We offer a full range of HR consulting services including HR process audits, selection and promotion systems, job analysis, selection test development and test administration, structured interviews, managerial and leadership assessment centers, training and management development programs, performance management/360 degree rating systems, employee attitude, engagement, and culture surveys, and expert witness services. All services and products offered by GCG Solutions are based on the most current developments in the professional literature and meet all applicable legal standards.