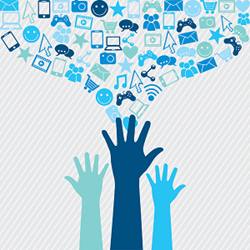 Calgary, AB (PRWEB) May 30, 2014
Gratitude Consulting Group Inc., a marketing agency in Calgary, is integrating video into marketing campaigns to boost the digital presence for every client's company. Businesses large and small should be taking advantage of video marketing because it offers a meaningful mechanism to advocate the expertise of a company.
The team at Gratitude designed and launched an exceptional video campaign for a recent client in the real estate market, and they hit the bullseye. They released three videos which generated an extraordinary response throughout the targeted social media markets. The marketing industry has found that video promotion is six times more effective than print and direct mail because it gives customers the opportunity to interact and invest a connection with a product; and effective promotion is what Gratitude does for their clients.
Gratitude Consulting, founded by Sherri Beauchamp, is a successful team assembled to create a dynamic marketing agency. The team at Gratitude strives to support clients by getting their mission and company values expressed to the consumers who can benefit from their outstanding product or service. Sherri wants to convey to current and future clients that, "Business is not just about dollars and cents, it's about connecting with real people and sharing stories that brings quality and originality to every client's project." They encourage video marketing because it can be used as a method to express the innovation and distinction of a product.
It has been found that videos aren't just for web pages or YouTube anymore. Videos can have a sizable impact through email. Recently a leading automated email marketing agency stated that, "including video in an introductory email reduced the number of subscriber opt-outs by 75 percent. Maintaining that contact is a vital part of establishing a relationship with prospects." This indicates that videos give potential customers a sense of commitment to explore the benefits of your product.
Attention spans have decreased over the past years and videos are a quick way to get a company's product visible when consumers don't have the time to sit and read an article or newsletter. Video marketing gives prospective customers the opportunity to invest with the message and product or service that your company offers. They will get an introductory look and then often continue to click through more videos, deepening their engagement with the company.
According to Sarah Mincher at Digital Sherpa, "80 percent of your online visitors will watch a video, while only 20 percent will actually read content in its entirety." This reinforces that video marketing is a critical part of advertising your business. Social media and video campaigns can have a substantial benefit in part because video empowers viewers to share their opinions with others, and when the product is great they will feel compelled to tweet, post, and blog about their experience.
Gratitude Consulting is a superior marketing agency based out of Calgary, Canada that offers a market appropriate digital advertising campaign using social media and video marketing. They will assist with content production to achieve digital market recognition generating high impact results using their razor sharp business marketing tactics. Sherri and the Gratitude Consulting team, spotlight the client's business vision and take the time to facilitate a meaningful working relationship to grow the market presence of their client's company.
Related News:

Related Search Phrases:
[Marketing Strategy] [Gratitude Consulting Group] [Marketing Agency] [Breaking News] [Business Consulting] [Small Business Consulting] [Reputation Marketing] [Video Marketing]
Related Hashtags:
#Consulting #GoogleTrending #BreakingNews #Marketing #Business #Reputation #Online #Brand #Gratitude #Happiness #Strategy #Calgary
###
Gratitude Consulting Inc. is located in Calgary, AB T3K 4Z2 Canada. Sherri Beauchamp and and her team can be contacted at GratitudeConsulting.com email:Info(at)GratitudeConsulting(dot)com phone (587) 333-0170