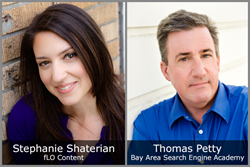 Online video marketing is on track to grow exponentially over the next couple of years.
Walnut Creek, CA (PRWEB) February 16, 2016
fLO Content co-founder, Stephanie Shaterian and Bay Area Search Engine Academy president, Thomas Petty, have announced an upcoming free webinar entitled, "How to Harness the Power of Video to Generate New Leads and Business in 2016".
The webinar will be on Thursday, February 25 at 9:00 a.m. Pacific/12:00 p.m. Eastern time. The public is invited to register to attend for no charge by visiting http://bit.ly/video-webinar2016.
The webinar is co-hosted by Shaterian and Petty, and during the hour-long webinar, they will cover several topics for listeners, including:

Why video is one of the most important marketing tools available in today's mobile-enabled world
12 types of videos business owners can create to get prospects to know, like and trust them
3 video production methodologies that take advantage of their strengths, even if they've never been in front of a camera before
How to search engine optimize (SEO) videos to show up on Google to generate more business leads
Shaterian said, "Online video marketing is on track to grow exponentially over the next couple of years and the webinar we've created contains everything a small business needs to get started leveraging this powerful tool today."
Studies have shown that in 2015, mobile data usage rose 69 percent, and 55 percent of mobile data traffic is from video. Facebook gets 4 billion video views a day, 75 percent of which are from phones.
"Clearly, video is becoming increasingly important for online marketers, and if you've been ignoring it or just aren't sure how to use video, now is the time to jump into the deep end," said Petty.
Space is limited, so those interested in this webinar are encouraged to register early before the available spots are filled.
About The Presenters
Stephanie Shaterian is an engaging speaker known for her signature presentation "Reel Talk: A Process for Creating Unique, Creative and Compelling Videos". She's co-founder and owner of fLO Content, a creative agency specializing in video and multiplatform storytelling for small businesses. She has an extensive background in performing and developing original theatrical productions as well as many years as a corporate trainer. She strives to create immersive and valuable presentations that encourage the audience to think outside of the box.
Thomas Petty has a ten year history of teaching online marketing techniques and search engine optimization (SEO) to business owners who come from around the world to attend his workshops. He is President of the Bay Area Search Engine Academy, located in the San Francisco California Bay Area.