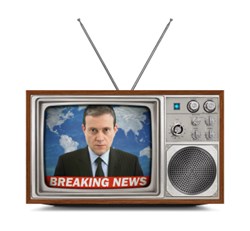 In recent days, kidney cancer has been prominent in the news
Hollywood, California (PRWEB) August 26, 2013
The Kidney Cancer Association (KCA), an international charity serving patients with renal malignancies in more than 100 countries, now offers breaking news via video news releases on the organization's home page.
KCA vice president Carrie Konosky says, "The unprecedented level of interest in kidney cancer, by both patient families and medical professionals, has resulted in our developing special 'breaking news' videos that are prominently featured on our website."
In recent days, kidney cancer has been prominent in the news on several fronts. A recent study suggests that runners have a significantly reduced chance of developing this disease that affects more than 60,000 Americans each year.
Results of a clinical trial indicate that two popular cancer treatments offer the same survival benefit to patients with advanced disease. But, according to the trial's lead investigator, there's one important difference.
Not all news affecting kidney patients is good. As plans are made to roll out the Affordable Care Act this fall, the government has announced plans that may result in a significant reduction in the availability of service to some patients receiving Medicare benefits.
Details on these stories are available in the latest edition of Kidney Cancer News: Special Report. KCA plans to produce videos whenever there is news that could have significant impact on its members.
KCA was founded in 1990 by a small group of patients, including Eugene P. Schonfeld, Ph.D., and medical doctors in Chicago, Illinois. It is a nonprofit charity incorporated in the State of Illinois. It has also been designated as a tax exempt organization under Section 501(c)(3) of the U.S. Internal Revenue Service code. Donations to the Association are tax deductible.