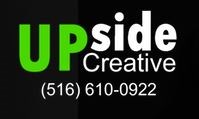 Compelling, engaging video content always succeeds online!
Hauppauge, NY (PRWEB) October 29, 2013
One minute of video is actually worth 1.8 million words, according to Dr. James McQuivey of Forrester Research. In today's competitive Internet marketplace, every business owner should consider including web video production to his/her marketing strategy. To make that process a reality for small business owners, Long island marketing firm Upside Business Consultants has launched a website exclusively dedicated to video marketing for Long Island and NYC companies.
"Imagine how much compelling information photos and graphics can convey to your target audience within a few seconds. Now multiply that by a thousand. That is the power of storytelling through video marketing," says Doug Betensky, President and Owner of Upside.
The videos Upside creates range from short commercial spots to on location, documentary style branding videos, custom videos, product demos and more. The Long Island Video production company produces high-definition, broadcast-ready videos that are specifically designed to be web ready. Each is even optimized for search engines so that they perform.
According to Doug Betensky, video marketing is growing rapidly and it offers numerous benefits for business owners that other media do not. Studies have shown that consumers are more likely to watch a video first before reading text. Video marketing can also be less costly than traditional forms of advertising, such as print advertising. "Conversion rates on websites with video also tend to be higher," says Mr. Betensky.
Video marketing is also optimal for websites. It makes websites more interactive and social media friendly. It is excellent for sharing on YouTube, Vimeo, Facebook, Twitter, Google+ and other social media platforms. Most of all, videos are memorable and have the potential to go viral.
"We don't just produce visually appealing videos, we take the necessary steps to make sure the videos are seen by the client's intended target audience. It's about reaching a client's marketing goals. As a result, they receive the best value out of their investment," added Mr. Betensky. "An added bonus is that video is great for search engine optimization. Google prefers sites that provide a more engaging, positive user experience. Video marketing is a great tactic to that end," says Mr. Betensky.
Upside's Long Island video marketing division is specifically geared towards small business owners and mid-sized companies. An account manager and videographer work internally to plan and coordinate all aspects of video production. They then film their clients' video on location or in the Hauppauge based marketing firm's in-house photography studio. The process is simple and the timeline short.
To read important video marketing facts and learn more about web video marketing packages, visit: http://upsidecreativepro.com/video-packages/ or call: (516) 610-0922.
About Upside Creative
Upside Creative (a division of Upside Business Consultants, LLC) is a top rated Long Island video production service with over 30 years of combined experience. They specialize in producing web videos for small to mid-sized businesses on Long Island, including Nassau County, Suffolk County, and most areas of New York City.
About Upside Business Consultants
Based in Hauppauge, NY Upside provides marketing consulting, internet marketing, and marketing coaching/training. It also provides full service marketing services, including web video production, social media marketing, website design and PR. The firm provides a unique combination of strategic marketing consulting and agency services that clients need to grow, whether they are launching a new business or looking for strategies to grow an established business or organization. Upside's New York marketing consultants are recognized for well thought out strategies, personalized service, and deep knowledge of marketing strategy across all marketing channels.