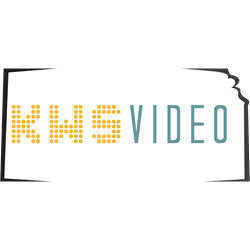 It really is a different overall approach to web video production
TOPEKA, KS (PRWEB) July 12, 2016
Kansas Web Services announced today the launch of KWS Video (http://www.kwsvideo.com), an internet video production company which will deliver customer-directed video content within a shorter window and at a substantially reduced cost compared to traditional production services.
"There are countless video production companies out there, but what most of them offer is, frankly, overkill for many of our clients who are seeking a simple and professional solution at a lower price point," said Robert Marvin, company spokesman of Kansas Web Services. KWS, who has provided website creation and hosting for businesses and non-profits in Kansas since 2011, decided to turn their clients' increasing demand for video production into a dedicated online presence exclusively to that purpose.
In order to facilitate speed of production and delivery, KWS Video customers will interact with a modular online menu – a "build-your-own" of creative choices – in essence directing their productions from afar. Among these facets are talent, background visuals, logo placement and music. Business owners will also provide a brief written synopsis of their company and the video's intended message, which will then be synthesized into final form by an experienced scriptwriter.
"Despite this choose-and-click approach, the number of variables involved makes it quite unlikely that any two productions will ever look or sound the same", says Marvin.
"It's not unusual for any production company to have a go-to stable of actors, backdrops, or music cues. We've made sure there are enough options available that the chance of one client duplicating another's choices remains pretty minuscule, and we'll be continually updating and adding to each facet category as well."
Marvin also noted that KWS Video technicians can arrange to travel for location shooting if requested, although he anticipates that the majority of his customers will be pleased to make their creative selections online and wait for the finished video to be uploaded in just a few days.
"Most of our clients are looking for a straightforward homepage welcome video or a short tutorial, so dramatic editing and flashy effects aren't what they're interested in. At the price we're positioning ourselves in this market, we're anticipating a lot of people will be wanting time-sensitive, one-off videos for things like special events and sales, possibly even ongoing seasonal videos. It really is a different overall approach to web video production in that respect."
About Kansas Web Services:
Kansas Web Services, founded in 2011, is a full service IT solutions provider. From network management to software development and online marketing, Kansas Web Services has grown and expanded its offering to encompass all aspects of IT. Kansas Web Services continues to grow and work with new clients every day to ensure they maximize their IT systems and online marketing efforts.