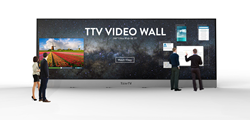 Hannover, Germany (PRWEB) March 18, 2016
Tabler Systems Inc is demonstrating a break through in Display and Touch technology on CEBIT 2016 at Hall 5, E67. The 5 meters wide, 2.4 meters high, 8K TV features a new 0 mm bezel (seamless) video-wall technology and a giant touchscreen surface.
For the past decade, Video Walls are commonly tiled using multiple display units to form a big picture. However, the technology has a critical problem: the edge of each display units is black and quite visible. It divides the whole video wall image with vertical and horizontal black lines.
After years of research, Tabler Systems has developed a new display panel technology using light emitting plastics. The advantage of the brand new technology is that the panel can be designed to be any shape, with no bezel at all, flexible and the panel is only 1mm in thickness. All existing LCD, OLED display technology has a bezel and the bezel cannot be eliminated. That is where Tabler System's true 0mm bezel technology really shines and comes into the rescue of black dividing lines problem in traditional video walls. Tabler Systems' solution also combines the benefit of high resolution of 8K displays and 0mm bezel (true seamless) design to give a real immersive and sharp visual experience to the users.
With increasing demand from large TV luxury home installation, business presentation and collaboration in the conference room, company lobby, gaming, command & control center, etc, Tabler Systems is posed to deliver the innovative product to make our lives more enjoyable and more productive. With this large scale display technology, users can experience a truly immersive experience at home and in the office. Watching movies, company videos, presentations or playing games on a 200" display is a staggering experience for guests and visitors, giving them an WOW impression that can never be forgotten. In addition, the built-in Multi-Touch sensor allow user's touch interaction with the display which is not found in a regular TV. Any picture, video or PDF documents can be pinched and zoomed much larger than the person himself in 8K high resolution showing any fine details. A user can add annotations anywhere on the TV wall and documents.
The 200" TTV Video Wall can be connected to a high-end computer to run 3D games. As the screen becomes as large as a big wall (5 meters wide, 2.4 meters high), the whole scenery becomes so real that it feels like living the virtual world, bringing the best gaming and VR experience that money can buy.
For business, the 200" TTV Video Wall allows 3D simulations, data visualization for big data and BI. When connecting to Salesforce, SAP or any other dataset, the big screen can show executives the insights and vision of their business. With a giant touchscreen, all the charts, data visualizations can be interactive and manipulated in realtime with a touch of the finger. When collaboration, brainstorming, presentation is important for business decision making, an giant 200" display with touch is a must have in the conference room. The 200" TTV Video Wall also features an add-on face recognition feature that allows business users to log in/log off their cloud and local account when approaching or leaving the screen, without the hassle of typing username/password. Fine-grained access control can be made on dataset, charts and documents.
With the new 200" TTV Video Wall technology, the possibilities are endless, more intriguing applications can be found in medical, military, space industry, oil & gas, TV broadcast studios, etc.
For more details, please visit http://www.ttv.co/video-wall.html