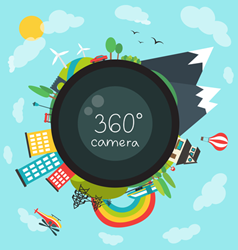 The 360 degree video experience is beyond your imagination
(PRWEB) August 16, 2016
Video Caddy (VCD) is pleased to announce the immediate offering of specialized 360° video stitching services. The introduction of these customized services by VCD allows clients to outsource complex video stitching tasks to the expert team at Video Caddy. New services include 360 degree rendering of digital 3D landscapes and 360 degree video productions that include interactive virtual reality experiences. VCD has created a dedicated 360 degree video stitching team that can handle high volumes of video editing projects from ad agencies, video production companies and videographers.
Effective uses of 360° videos typically include examples like selling the experience of using a company's services, promoting vacation destinations, creating real estate video tours and showcasing new products. The 360 degree video stitching process is typically labor-intensive, complicated and expensive — usually requiring specialized software and highly skilled technicians. Video Caddy's talented professionals were early adopters of 360° video stitching technology and now have more than a decade of specialized experience involving advanced video editing services. The VCD video stitching team can support all 360 degree platforms such as Samsung Gear VR, Google Cardboard and Oculus Rift.
As noted by a Video Caddy senior operations manager, "The experiences and stories you can share with a well-done 360° video are only limited by your imagination. High-quality video stitching and editing services are often the secret ingredients required for success when videographers and marketing professionals are producing a 360° video. VCD's advanced video specialization and existing 360° video editing processes means that our clients can avoid the upfront expenses of implementing a 360° video editing infrastructure. We are proud to offer speedy turnaround times for 360° video stitching projects without compromising quality. As with all services offered by Video Caddy, client satisfaction is always guaranteed."
In addition to customized 360° video stitching services, Video Caddy is also an international leader in specialized services encompassing animation, storyboards, video editing and audio editing. This diversified mix of creative services allows clients to use VCD as a one-stop source of advanced audio and video editing help. To review white papers, blog articles, testimonials and case studies about outsourcing services available from Video Caddy, please visit:
https://www.videocaddy.com/video-editing/360-degree.php
About Video Caddy:
Video Caddy is a global leader in advanced services for videographers — audio editing, video editing, storyboards and animation services. For over a decade, Video Caddy has been recognized as a world-class outsourcing provider of service and quality to entrepreneurs, small businesses and Fortune 500 companies.