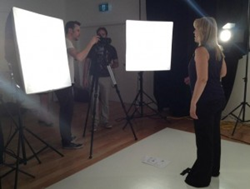 Video Business Cards can drive new traffic to your website and improve conversion.
Melbourne, Australia (PRWEB) May 26, 2014
With the introduction of Video Business Card the traditional business cards in paper are almost redundant. And Melbourne Video Production is pleased to announce the launch of their latest innovative service: Video Business Cards.
A Video Business Card can offer businesses and professionals the unique opportunity to promote their sales message 24/7 with no additional cost and at the best return on investment (ROI) for their marketing dollars. As David Jenyns, CEO at Melbourne Video Production, explains "We love video and we can't wait to share our passion with you and your business. Video Business Cards can drive new traffic to your website and improve conversion."
A Video Business Card is actually a short video that captures the essence of the brand, building trust with potential customers. Melbourne Video Production offers a unique combination of this digital product with a profound understanding of modern marketing; all to help turn their clients' business pitch into a video goldmine. Mr. Jenyns adds "We live and breathe web video so we know the huge impact that Video Business Cards can have on your business."
This revolutionary tool, a digital business card, is ideal for companies and professionals who have a website or do business on the internet. It can be inserted in business e-mails, on the homepage of the website and in all marketing activities. It is accessible via computer, tablet PC or smartphone and can drive customers directly to the "buy now" area of a website. Melbourne Video Production's experts know and do it all: across the whole online digital footprint of the business, to how it integrates with the website, the Social Media, Search Engine Optimisation, etc. David Jenyns emphasises "We understand small business because we are a small business as well. We make Web Videos quickly, easily, and cost effectively. We listen to your concepts and ideas and then we work with you to get the very best possible product."
For further information on Video Business Card and to order a tailor made web video visit http://www.melbournevideoproduction.com.au/ today.
About
Melbourne Video Production is a division of MelbourneSEOServices.com, a full service search engine optimisation (SEO) consultancy, based in Australia, but with a worldwide client base.
Melbourne Video Production has the unique ability to combine their web video expertise with strategic SEO practices from Melbourne SEO.
Director, David Jenyns, has, over several years, built a team of experts who are niche experts to support the business, and who share his ethos for ethical, professional internet marketing and web video.