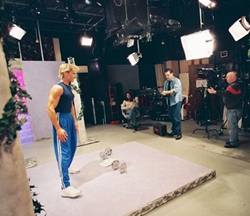 At JHD-Dobson, based on Long Island, we produce videos that convey leadership of brands and services.
Deer Park, LI, NY (PRWEB) August 28, 2014
Video production can be made simpler and more effective following the 5 Video Tips announced by JHD-Dobson Productions, producers of videos for corporate and marketing brand building as well as independent movies.
JHD-Dobson, based in Deer Park, Long Island, New York, an hour outside of Manhattan, combines the brand building expertise of PR expert Brian Dobson and the expertise of JHD Productions award-winning Director of Photography Hugh Daly as it brings top quality to each assignment.
Demonstrating its own services, JHD-Dobson's video is a brief "sizzle reel" to indicate the value-added brand building ability of its unsurpassed studio and is online at http://tinyurl.com/lnklj9p.
JHD-Dobson offers top quality writing, development and production to clients, and offers 5 Video Tips:
1. Write tight, avoid jargon and keep script free of words not easily understood.
2. Focus message and limit it to key points.
3. Keep it simple in the spirit of "less is more," but reinforce the key message.
4. Use special effects that complement your message and convey a leadership ability.
5. Don't oversell but make a call-out to work together in action statement.
Daly said, "An effective video should range from 2 to 5 minutes, which is the right length for meetings, trade shows and social media. Hugh Daly is also a consultant for NBC Universal and has filmed independent movies for international distribution.
Dobson added, "At JHD-Dobson, based on Long Island, we produce videos that convey leadership of brands and services." Brian Dobson, a former journalist at Dow Jones and Reuters before heading PR at two major corporations before starting his own company, is often quoted in media, such as about how corporations handle crisis.
Hugh Daly, an award winning Director of Photography and founder of JHD Productions, said, "Videos filmed on location or at our state-of-the-art studio on Long Island, New York, position clients as leaders in their fields."
"JHD-Dobson is a full service studio with green screen studio, editing suite, virtual and stage sets with a team of professionals ready for in-studio and on-location filming. It is a joint venture of JHD Productions and Dobson Communications, online at http://www.DobsonPR.com. For information contact Barbara Dobson at call 203-894-9240 or BD(at)DobsonPR(Dot)com.