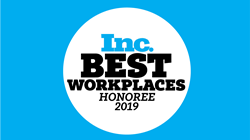 "The most important part of running a business is taking care of your people. There are always better funded companies trying to copy your strategy and intellectual property, but one thing someone can never copy from you is your culture," said Ross McCray, Co-Founder & CEO, VideoAmp.
LOS ANGELES (PRWEB) May 16, 2019
VideoAmp today has been named one of Inc. magazine's Best Workplaces for 2019, its fourth annual ranking in the fast-growing private company sector.
Hitting newsstands May 28 in the June 2019 issue, and as part of a prominent Inc.com feature, the list is the result of a wide-ranging and comprehensive measurement of private American companies that have created exceptional workplaces through vibrant cultures, deep employee engagement, and stellar benefits. Collecting data on nearly 2,000 submissions, Inc. singled out 346 finalists.
Each nominated company took part in an employee survey, conducted by Omaha's Quantum Workplace, on topics including trust, management effectiveness, perks, and confidence in the future. Inc. gathered, analyzed, and audited the data. It then ranked all the employers using a composite score of survey results. This year, 74.2 percent of surveyed employees were engaged by their work—besting last year's 72.1 percent.
The strongest engagement scores came from companies that prioritize the most human elements of work. These companies are leading the way in employee recognition, performance management, and diversity. It's a different playbook from a decade ago when too many firms used the same template: free food, open work environments, and artifacts of "fun."
"The most important part of running a business is taking care of your people. There are always better funded companies trying to copy your strategy and intellectual property, but one thing someone can never copy from you is your culture. We have always focused on making our culture an inspiring, fun and results oriented environment that thrives on personal growth, holistic health and meritocracy," said Ross McCray, Co-Founder & CEO, VideoAmp. "We are grateful for winning this award and couldn't have done it without the hard work and dedication of our people contributing their best every day and making VideoAmp the place it is."
Among other generous benefits, VideoAmp offers:
$2,000 annual family vacation stipends
Unlimited paid time off
Child and pet babysitting funds
Equity participation
401K
Generous parental leave
Employer-paid life insurance
A personal trainer on staff
In-house gym & fitness challenges
Healthy snacks & subsidized meals informed by a nutritionist
Epic team adventures
Stipends for professional development courses and workshops
A commitment to internal promotion
Participation in culture programs, social hours, team outings, board game nights, league sports, etc,
New hire buddies & mentors
Generous referral stipends
All companies applying for the Best Workplaces status had to have a minimum of 10 employees and be U.S.-based, privately held, and independent—that is, not subsidiaries or divisions of other companies.
While researching the finalists, Inc. and Quantum saw distinct themes:
99 percent provide health insurance—and some cover the cost
49 percent allow employees to bring pets to work
65 percent take employees to offsite retreats to relax and recharge
16 percent offer paid sabbaticals to reward length of service.
"With today's tight labor market, building a great corporate culture is more important than ever," says Inc. magazine editor in chief James Ledbetter. "The companies on Inc.'s Best Workplaces list are setting an example that the whole country can learn from."
About VideoAmp
VideoAmp is transforming the way brand marketing and media is valued, bought, and sold. The majority of TV, OTT and digital video advertising is valued by how many people saw an ad versus whether or not the ad impacted the marketer's desired business outcome. This results in massive waste and lost opportunities. VideoAmp gets a true read of advertising performance by connecting the dots in a privacy safe way with marketers' first party sales/conversion data and ad exposure. We empower marketers and media owners to impact their sales by optimizing their entire portfolio of linear TV, OTT and digital video advertising through proprietary software that recommends smarter strategies to maximize return on investment. This delivers more value to the marketers, the media owners and ultimately the consumer. VideoAmp optimizes over $10 billion a year of marketing investment and is backed by The Raine Group, Ankona Capital, Mediaocean, RTL Group and six other leading venture capital groups. For the second year in a row, VideoAmp was voted one of Inc. Magazine's Best Places to Work for 2019. For more information, visit VideoAmp.com or follow us on Twitter, Facebook, and LinkedIn.
About Inc. Media
Founded in 1979 and acquired in 2005 by Mansueto Ventures, Inc. is the only major brand dedicated exclusively to owners and managers of growing private companies, with the aim to deliver real solutions for today's innovative company builders. Winner of Advertising Age's "A-List" in January 2015, and a National Magazine Award for General Excellence in both 2014 and 2012, Inc. has a monthly audience reach that's grown from two million in 2010 to more than 20 million today. For more information, visit Inc.com.
About Quantum Workplace
Quantum Workplace is an HR technology company that serves organizations through employee engagement surveys, action-planning tools, exit surveys, peer-to-peer recognition, performance evaluations, goal tracking, and leadership assessment. For more information, visit QuantumWorkplace.com.