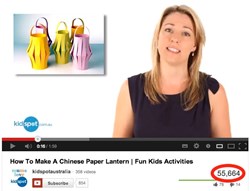 It was important for us to create a few simple and affordable options for those who don't have the same budget as big corporations...
Melbourne, Victoria (PRWEB) September 30, 2013
Just recently the professional team at Melbourne Video Production launched three new products on their website. The aim for the new packages is to help more businesses increase their exposure online. Industry expert and Director of the web video marketing company Mr. David Jenyns says, "We understand that not every business has a big budget for online marketing. It's those clients we had in mind when we created these new products."
With significant and recent changes to search engine algorithms, getting exposure for a website online is much harder now. Many business owners realize the importance of using web videos; however, no matter how tech savvy they may be, professional assistance is still required for the best results.
Melbourne Video Production combined their professional film crew's talent with their sister company Melbourne SEO Services' expertise to create a new and unique product offering for their clients. Thankfully, large marketing budgets aren't required to tap into their new video packages. "Our clients get the best of both worlds with our companies, not only do we create high quality videos, we effectively market them for our clients, too," says Mr. Jenyns.
As part of his goal to assist small to medium businesses in their venture to succeed online, Mr. Jenyns' video company has just launched three new products. "It was important for us to create a few simple and affordable options for those who don't have the same budget as big corporations, and these new packages do just that."
The first new product is called the View Boost Pack. The package was created for those who already have a video, but need help promoting it. Mr. Jenyns says, "it includes a quality press release, paid advertising on YouTube and bonus cover art to use as a click-able thumbnail for the video." What's more is that he says, they "guarantee to be the cause behind the first 200 legitimate views."
The second new package uses the popular online communication program Skype as the recording device. The Skype Video Pack allows those who don't have the budget to hire a set and film crew to use Skype as their way to create the footage. "Clients who select this package get up to a maximum of 10 minutes or any five videos, whichever comes first. It's low cost is a great way to get started in web video."
The video marketing company director goes on to explain the third new product offering called Custom Web Videos. Mr. Jenyns remarks that "this is our most popular package because it allows the client to get really involved in the entire process. Plus, since it's fully tailored to the clients' needs, so is the price."
Just recently, Melbourne Video Production unveiled three new products on their website. The new video packages allow small to medium sized businesses "get involved in the emerging world of online video." The flexibility of the web video marketing company allows their clients to select from set-priced packages or to create fully custom films. To learn more about the company's video production services, visit http://www.melbournevideoproduction.com.au/video-production-in-melbourne/ today.
About Melbourne Video Production
Melbourne Video Production is a division of MelbourneSEOServices.com, a full service search engine optimization (SEO) consultancy, based in Australia, but with a worldwide client base.
Melbourne Video Production has the unique ability to combine their web video expertise with strategic SEO practices from Melbourne SEO.
Director, David Jenyns, has, over several years, built a team of experts who are niche experts to support the business, and who share his ethos for ethical, professional internet marketing and web video.