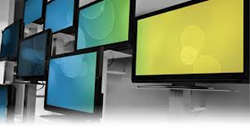 San Diego, CA (PRWEB) January 13, 2015
Launched in 2004, the Digital Signage Expo was the first event dedicated to the digital signage market. It is now the world's largest and longest running conference and trade show dedicated to showcasing innovative digital communications and interactive technology solutions for both customer and employee-facing companies. Videotel will be taking advantage of a tremendous opportunity to exhibit its product line, including its digital signage players, at this year's DSE 2015 in March.
The show will take place at the Las Vegas Convention Center from March 10-13, with the exhibit hall taking center stage March 11-12. While Videotel, Inc., is already an industry leader in the digital signage and industrial media player business, the opportunity to show its products at DSE will provide the company with the chance to further its reach and make new connections in the industry as well as help drive new business across its product categories.
Digital signage has become an increasingly popular way for businesses around the globe to communicate with both their customers and their employees. The interactive technologies present in Videotel's products help improve the customer and employee experience with messaging that stays consistent across platforms and locations. Many businesses already take advantage of Videotel's digital signage players to improve their overall messaging and help drive ad revenue.
Whether used on video walls, menu boards, kiosks or HD televisions, Videotel solutions can provide 24/7 auto looping content and or create an interactive digital signage experience to help your business effectively advertise, inform and communicate with your target audience.
For more information on how Videotel can help your business with a digital signage solution, visit the Videotel Inc. website at http://www.videoteldigital.com, or call us at (800) 878-4056.
About Videotel, Inc.
Videotel, Inc. is the leading nationwide manufacturer of the HD2600 industrial looping DVD players and a unique line of industrial media players, digital signage players and interactive digital signage solutions,. Videotel is based in San Diego, Calif., with over 34 years of market experience in developing simply reliable industrial digital products and solutions. To learn more about Videotel Inc., visit http://www.videoteldigital.com.