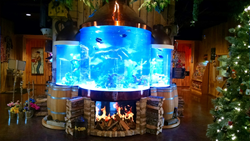 "It is truly a hands-off, worry-free video player", says Marshall Whaley, Technical Director of Fee Hendrick.
Pigeon Forge, TN (PRWEB) September 28, 2015
Fee Hedrick Entertainment Group specializes in providing a great customer experience with its many comedy shows. No detail is too small, so when the group recently chose Tanked to install a beautiful aquarium, it turned to Videotel to provide a streaming media player to complete the effect.
According to Fee Hedrick's technical director, Marshall Whaley, the company was previously using a computer with a GOM player for playback of the impressive tank's fire display. "I had to pretty up the fire effect for my boss," said Whaley. "After a little help from Videotel, I was able to get the right unit and the right format."
People often think of digital signage as an informational display with rolling text or interactive solutions as a kiosk where customers manipulate a computer display. As Fee Hedrick's technical team learned, digital signage and interactive solutions have a multitude of applications in the field.
For the realistic fire display, Videotel's VP71 Industrial Digital Media Player fit the entertainment company's requirements for a high-quality display coupled with consistent reliability. The VP71 is more than a digital signage player. It offers the ability to seamlessly loop video around the clock from a USB port or an SD card. The player has a proven lifespan of more than four years. It's truly a hands-off, worry-free video player. Even in the event of a power outage, the VP71 will resume playback automatically when power returns to the player, without any manual interaction.
Impressed with what you see? Videotel has a digital signage solution for any challenge you are facing. Our top-of-the-line products will give you the highest quality displays coupled with the peace of mind that your content will play on whether you are there or not. For more information on any of our high-quality industrial digital media players or interactive technology, visit the Videotel Inc. website at http://www.videoteldigital.com or call us at (800) 878-4056.
About Videotel Inc.
Videotel is an award-winning manufacturer of industrial digital signage media players, industrial looping DVD players, and interactive technology. Based in San Diego, California, Videotel's 35 years of market experience in developing reliable industrial digital signage solutions has propelled it to industry leader status.