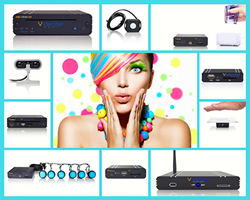 The product simply works flawlessly and is so easy to manage. -Brian Lunsford, Entertainment Technology
San Diego, CA (PRWEB) September 18, 2017
In excellent form even on the ocean blue, the VP70 XD from Videotel Digital gets a wave of kudos from Seabourn. The pioneer of ultra luxury cruising for small-ship cruise lines, Seabourn delights their affluent client base with desirable destination spots. It also intrigues them with superior digital signage while on board. This is in thanks to Videotel Digital's VP70 XD. Recently given a great review by the luxury liner's Entertainment Technology rep, Brian Lunsford, the media player is on point. Identifying the power of well-given information, the all-suite ships are in top form as the industrial media players keep 600 guests up to speed.
Known for their signature style of thoughtful, personalized, and heartfelt hospitality Seabourn knows how to please the clientele. "The product simply works flawlessly and is so easy to manage," said Lunsford. "We use them to play a number of professionally produced video clips. Those clips are routed to displays in public areas onboard. They're also routed to a television channel that's available in the guest rooms."
Designed to provide years of quality as it runs 24/7 and 365 days a year, Videotel's VP70 XD industrial-grade digital media player simplifies signage. It auto-loops mixed content media and effortlessly mixes audio and video, content to create an engaging user experience.
Lisa Schneider, VP of Marketing & Sales at Videotel Digital adds, "The VP70 XD is designed for heavy commercial use so, we're in our element here with Seabourn. We're so happy we can engage their guests with digital signage that's upscale while they're enjoying vacation."
For more information about Videotel Digital visit http://www.videoteldigital.com.
About Videotel Digital:
Videotel Digital is a leading manufacturer of Industrial Digital Signage Media Players, Industrial DVD Players, and Interactive Digital Signage Solutions. The industry leader services numerous industries from retail to healthcare, educational concerns, hospitality, events, and museums among others. Videotel Digital Industrial Audio/Video products provide convenience with features such as Auto Start, Auto Play and Auto Loop. The products also seamlessly Auto Repeat for continuous play without manual interaction.
Information:
Videotel Digital
681 Anita Street Suite #104
Chula Vista, CA 91911