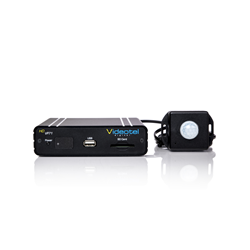 San Diego, CA (PRWEB) October 19, 2015
Videotel is currently shipping one of its most heavily anticipated digital signage solutions, Move to Play. Move provides the functionality for both seamless auto looping content while also allowing users to quickly and easily trigger additional content with the use of a motion sensor. This uber-cool technology identifies all different types of human movement, whether it is only a single foot away or upwards of 21 feet away from the motion sensor. The new Move to Play solution can also be easily customized to prompt the triggering of repeat content in any desired window of time.
Move first debuted in March of 2015 at the Digital Signage Expo (DSE) in Las Vegas, Nevada. It received a glowing response from those who had the chance to use it to trigger multiple video files. Move is now available to customers throughout the United States and the rest of the world. This technology represents one of Videotel's four new digital signage solutions that are compatible with the VP71 digital signage media player. The other three new Videotel technologies are Push to Play, Wave to Play and Elevate to Play.
About Videotel Inc.
Videotel Inc. manufactures a wide range of industrial digital signage products that have won numerous awards. These high tech products include industrial digital media players, interactive technology, and industrial medical grade DVD players. Videotel's headquarters is in San Diego, California. The company has 35 years of market experience in which it has designed an array of high tech industrial digital signage products with friendly user experience designs. Videotel's unique technologies are built with posterity in mind. This collection of digital signage solutions has catapulted the company to industry leader status. More information about Videotel Inc. is available at http://www.videoteldigital.com.
Move to Play, one of Videotel's latest Digital Signage Technologies, was widely applauded after its debut at the Las Vegas Digital Signage Expo. The solution is now available for purchase