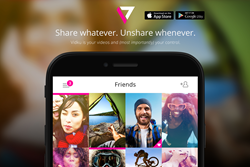 People love using video because it's a powerful way to share ideas and experiences, but we often edit ourselves as there's little control over who sees what on most social networks
Minneapolis, Minn (PRWEB) October 08, 2015
Vidku, a video-centric messaging app that inspires friends and groups to share whatever and unshare whenever, launched today in the Apple App Store and on Google Play. In a nod to the simplicity of haiku, the traditional Japanese 17-syllable poetry, Vidku videos are limited to 17 seconds to spark creation and encourage consumption.
Vidku's co-founder and Chief Design Officer is video app veteran Charlie Miller. Miller, a University of Minnesota design professor, led the development team behind Flipgrid, one of the most popular video-sharing apps for educators.
"People love using video because it's a powerful way to share ideas and experiences, but we often edit ourselves as there's little control over who sees what on most social networks," shared Miller.
"This leads to sharing in a way that can create a pre-packaged version of our true selves. We designed Vidku to provide users with simple and powerful control. On Vidku you can be who you want, when you want, with the groups you want. All without any sharing hangover the next morning."
This powerful control over who sees what, and for how long, is key to Vidku's functionality. You can share videos with specific friends or within a group conversation. Further, you can unshare videos at any time with a single tap, like it never even happened. If you host a Vidku group, you control the mood and theme by deciding who's invited… and who leaves along with their videos.
"Hosting a Vidku group is like throwing a party," added Miller. "You spark the reason for getting together, invite some friends and decide when everyone should go home. And, like most good parties, if you share something at 3 a.m. that doesn't seem so clever in the light of day, simply unshare it. The ability to change your mind is central to Vidku. The moments you capture last forever, until you don't want them to."
In addition to control, Vidku's simple capture tools let users pause, live-flip and rotate the camera perspective on the fly to produce short, powerful stories that ignite creativity and dialogue.
"Dialogue is a two-way street. Our first goal is to encourage consumption – to make sure that people watch and enjoy other's videos," said Jim Leslie, Vidku co-founder and CEO. "People are more likely to watch and react to short videos from their real friends, not followers, so we've made it easy to create and share an amazing narrative in 17 seconds, all without editing."
All Vidku videos are automatically stored in the cloud. This allows users to share high quality videos with their friends and family regardless of device type and phone storage. Vidku videos stream to the cloud as they are recorded, making them instantly accessible to anyone they're shared with whether it's a few friends or a hundred people in a group.
Vidku Inc. was launched in February of this year with a $17 million Series A funding round led by Arthur Ventures. Joining Miller and Leslie as co-founder is Phil Soran, who serves as Executive Chairman.
More About the Vidku App
Vidku offers a range of features and benefits unique within a single video-messaging app, including:

Dialogue – Users create and share 17-second video moments and messages, or spark discussions in groups.
Lasting – Personal videos, even the funniest, most creative, or most meaningful, are too fleeting – easily lost across platforms or temporary by design. Vidku videos last forever, at least until the creator decides differently.
Control – Users decide, at any time, which friends and groups can see their videos, sharing and unsharing at will. Only video creators can download their videos for outside use.
Creative Tools – Users can pause, live-flip the front and back cameras and move seamlessly between portrait and landscape modes, all in a single take. These unique capture tools allow the creator to guide the recipient's viewing experience. Users can also apply filters and titles to thumbnail images that serve as the primary UI for Vidku.
Short and Effective – Vidku limits videos to 17 seconds, so they're easy to create and fun to watch.
High Quality – Vidku streams high-quality videos to all compatible devices, whether running iOS or Android.
Low Bandwidth Consumption – Vidku's proprietary live compression and transcoding techniques help users enjoy Vidku even in poor cellular coverage areas. Also, if you record a video in an area with low or no bandwidth, Vidku will automatically upload the video when you regain service.
Instant Access – Vidku streams videos to the cloud during the capture process, making them instantly accessible to friends and others in the group.
About Vidku
Vidku makes it fast and easy to record short, creative and lasting videos that share moments or spark discussions with friends and groups. For more information, visit us at http://www.vidku.com, or download the free app from the App Store or Google Play.