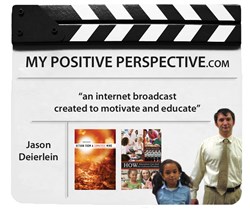 My father, grandfather and uncle all fought in the Vietnam War.
Charleston, SC (PRWEB) November 05, 2013
On November 5, 2013, My Positive Perspective host Jason Deierlein aired an episode with publicist Philicia Baugh as the two looked forward to this week's radio show guest Ray Kenneth Clark. Clark served his country through a time of struggle and uncertainty in the Vietnam War. The tasks and challenges Clark was counted on to overcome were extremely challenging and overwhelming. Clark describes these encounters in his book Just Let Me Walk Away.
At the beginning of the episode, My Positive Perspective host Philicia Baugh says, "You should be very excited about this guest you have coming up." Deierlein replies, "I am, my father, grandfather and uncle all fought in Vietnam. I did a big term paper in college on the end of the Vietnam War. That is a period of history that I have always found interesting." Deierlein then says, "I hate the way this period of history is viewed as negative. Lots of positive things came out of Vietnam."
Baugh then makes a comparison with Clark's story and Deierlein's struggle by saying, "Your stories relate well to one another, both of you had to face real life survival situations." Deierlein agrees saying, "Both of our books read alike as well. My book Return From a Comatose Mind describes the situation I faced after waking from a coma. Mr. Clark's book recalls the adversity he faced during the Vietnam War."
Deierlein finishes the episode by saying, "We both needed to calm down a situation that was life threatening and hectic. We used similar tactics to do that and recorded those events to help people do the same."
My Positive Perspective is a media outlet believing that improvement in our community will be best achieved by focusing on the good things happening in our world today. Having survived a near fatal car accident as a youth, a shift of perception forced one to have a mentality of always concentrating on the brighter sides of things. This was true, and in my book, Return From a Comatose Mind, this belief was put to the test. Appreciation for life was the biggest thing one took away from my brush with death, and it is because of that gives me such a huge desire to be helpful to many. My Positive Perspective is a way of overcoming challenges through positive thinking.