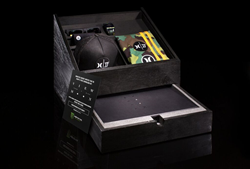 John John Florence just made the best surf film of the year - USA Today.
Oahu, Hawaii (PRWEB) December 02, 2015
Professional surfer John John Florence's highly anticipated surf film, View From A Blue Moon is available for purchase starting today, globally, through iTunes, Amazon, Google Play, M-Go, Vimeo On Demand, and other digital platforms in HD as well as DVD and Blu-ray. The critically acclaimed movie is the surf film shot on 4K with narration provided by actor John C. Reilly (Stepbrothers, Talladega Nights).
Fans also have an opportunity to purchase a very special limited-edition View From A Blue Moon bundle, which includes: a breathtaking 315-page coffee table book with behind-the-scenes stories and imagery, including some of John's personal photography from the making of the film, signature Hurley Phantom JJF II boardshorts, the Nixon Comp, John's team designed and custom built watch, signature Stance socks, JJF Spy Optic sunglasses, a View From a Blue Moon Flexfit hat and a free movie download card courtesy of Monster Energy. One hundred percent of proceeds will benefit The North Shore Junior Lifeguard program as well as Friends of Sunset Beach, which supports the arts in the Sunset Beach community. The limited-edition bundle is available for purchase through http://www.viewfromabluemoon.com/shop.
Early reviews are pouring in with Stab Magazine praising View From A Blue Moon naming it, "the best surf film ever." Surfing Magazine said, "VFABM features the best cinematography surfing's ever seen…the angles, the quality, truly outstanding." While USA Today added, "John John Florence just made the best surf film of the year."
View From A Blue Moon was created by John John Florence and Blake Kueny; their second signature release since award-winning film, "Done" (2013). For the movie, the pair teamed up with Brain Farm to create a revolutionarily stunning 60-minute feature. The film follows Florence, his closest friends and fellow professional surfers to his favorite surfing destinations around the globe, from the South Pacific to the darkest uncharted waters of South Africa. While the young Hawaiian is pulled in increasingly different directions, there is no form of pressure that will keep him from his ultimate goal — to redefine what is possible in the ocean.
View From A Blue Moon was made possible by Hurley, Brain Farm, Monster Energy, Nixon, Stance, Spy, Flex Fit and RED Digital Cinema.
For more information visit: http://www.viewfromabluemoon.com.
About John Florence
Born and raised on the North Shore of Hawaii, 22-year-old John Florence learned to dominate difficult surf, developed awe-inspiring aerial techniques and established a natural style at an early age. In the surf world he is better known as "John John," and one will typically hear this name tossed about in any conversation about the future of surfing.
2012 marked John's first full year on the ASP tour, and he didn't disappoint – placing 4th for the World Title, taking his first WCT win at the Billabong Rio Pro and winning Rookie of the Year. However, hardly a rookie when it comes to surfing, John is a celebrated wunderkind who broke onto the surfing stage at only 5 years old. He became the youngest surfer to ever compete at the Vans Triple Crown of Surfing at thirteen, beating surfers twenty years his elder, and winning it outright a mere six years later at the unprecedented age of 19 and again in 2013.
John Florence combines competitive surfing dexterity with an impeccable natural ability that is quickly paving the way for a new generation of surfing. Taking many moves from skateboarding influences, his technical skill set and remarkable ability to conquer waves from two to thirty feet make him a fierce competitor whose stock is rising faster than the Banzai Pipeline - where it all started. Despite being touted as the next big thing in the surfing world, John remains incredibly humble, still heading out to surf with his mom and two brothers whenever he can. John is also an avid photographer and filmmaker when he's not surfing.
About Blake Kueny
Director Blake Kueny has always had a passion for filmmaking and a keen eye for story. Kueny has proven over and again that his talent far transcends his youth. While surfing is his mainstay, Kueny has worked with numerous action sports athletes and in 2010, shot a Red Bull reality series directed by esteemed surf film director Greg Browning. For the past five years, his bare feet have been firmly planted in the surf world. He traveled the world as principal filmmaker for South African pro Jordy Smith, and his short edit of surfer Carissa Moore during her first world championship campaign earned him a Surfer Poll Award nomination at the age of 17. While working on a project with Smith in South Africa in 2011, a chance meeting with North Shore wunderkind John John Florence sparked a friendship and partnership. Born only six months apart, the duo began traveling and filming together and their first offering, the short film Done, was hailed as the best surf film of the year in 2012 and set the stage for View From A Blue Moon.
About Brain Farm
Brain Farm, an award-winning film studio, is one of the most sought-after content creators in entertainment. Built on a reputation of delivering the highest quality and commercially successful action, adventure and lifestyle productions, Brain Farm's work spans across commercial, film, television, and digital entertainment. Brain Farm's headquarters are in Jackson, Wyoming and has creative teams from Los Angeles to New York. For more information, please visit http://www.brainfarmcinema.com.
###