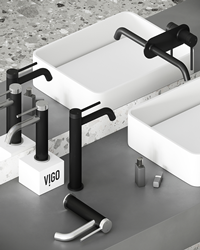 "cFiber© not only looks sleek but it also gives people a better experience in the home."
NEW YORK (PRWEB) December 03, 2019
Carbon fiber is the hottest new material to infiltrate the kitchen and bathroom industries. Resilient, sturdy, durable, and lightweight, this build does it all. Now offered in single hole and wall-mount bathroom faucet varieties, VIGO's proprietary line of carbon fiber faucets, called the cFiber©, presents this material to the market in a way that has never been done before.
By using a hands-on approach to delivering the most high-end products, VIGO manufactures the single and wall-mount bathrooms in owned and operated factories. Engineered to be 10x as strong and 5x as light as regular steel, the cFiber© takes the best of what VIGO has already been doing and expands upon it.
The VIGO cFiber© Bathroom Faucet Collection comes in 7-layer plated stainless steel, brushed nickel, and matte black finishes. With the core of the faucet body constructed from 100% solid brass, a carbon fiber shell encases the exterior to provide additional strength without weighing down the structure. Highly resilient to corrosion, tarnish, and rust, cFiber© is also known for its high tensile strength and low thermal expansion. While carbon fiber was previously primarily used in the aerospace and aviation industries because of these properties, innovative architectural and interior designers such as those involved with VIGO recently began introducing them to the home décor market. Carbon fiber's propensity for withstanding moisture, heat, and chemicals make it the ideal material for residential bathrooms.
Homeowners will no longer have to worry about the lifetime of their fixtures with the cFiber©. Of the latest innovation, VIGO CEO/Co-Founder Lenny Valdberg says, "VIGO always aims to provide the ideal experience for anyone using our products. We're excited that the cFiber© not only looks sleek but it also gives people a better experience in the bathroom, one of the most important rooms. At the end of the day, our goal is to extend the lifetime of your home's fixtures; cFiber© faucets can do that."