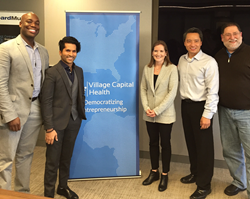 "40 percent of an individual's health outcomes are attributed to social determinants; our program focus was on finding, training and funding businesses addressing socioeconomic-driven healthcare delivery issues," said Village Capital CEO Ross Baird
SAN FRANCISCO (PRWEB) February 01, 2017
Two digital health startups, Certintell and LivWell Health, have been selected by peer startups to receive $75,000 each in investment from Village Capital. The ventures were selected from a cohort of 13 businesses attending Village Capital Health: US 2016 and using technology to address issues arising from the social determinants of health, such as income and education. The selection process marks the January 2017 conclusion of the three-month investment-readiness program run by Village Capital, in partnership with The Kresge Foundation.
In a unique process called peer-selected investment, participating entrepreneurs evaluated each other's early-stage health businesses across nine indicators of investment readiness and then directed investment capital, pre-committed by Village Capital, to the top two, peer-selected companies, Certintell and LivWell Health.
Des Moines, IA-based Certintell is a patient-centered virtual care solution that enables low-income Americans to text, send pictures, and video chat with their care team. San Francisco-based LivWell Health offers secure, web-based solutions for post-acute and senior living providers. Both companies' technology solutions help address common health-related issues faced by low-income patients, namely challenges with connecting to healthcare providers and community- and home-based resources .
"Forty percent of an individual's health outcomes are attributed to social determinants, but most innovation today is focused on improving processes within the clinic, ignoring those important factors." said Village Capital CEO Ross Baird. "Village Capital's Health US program's focus was on finding, training and funding businesses addressing socioeconomic-driven healthcare delivery issues. We are pleased to partner with Certintell and LivWell Health, innovative companies that are already helping to improve health for low-income families."
The cohort was selected from a highly competitive applicant pool from across the United States, and represents some of the best digital solutions for improving low-income patient outcomes. Village Capital prepared the cohort for investment and scale through a series of three workshops, which took place in different cities across the country. Starting in Nashville, TN and then moving to Philadelphia, PA, the program culminated in a series of potential investor and partner meetings in San Francisco.
"Certintell and LivWell Health both offer solutions that will help people better manage their care, and ultimately have better health outcomes," said Kim Dempsey deputy director of The Kresge Foundation's social investment practice. "Village Capital's US Health investment readiness program helps fill a gap in the market by connecting emerging health entrepreneurs with access to capital and engaging peer organizations in a collaborative and supportive environment."
Throughout the program, the entrepreneurs received mentoring from industry experts and potential investors on business model development, customer hypothesis testing, financial modeling, partnership and customer development, and investor engagement. The entrepreneurs also had one-on-one time with mentors, industry experts, investors, top local business leaders, and potential customers. The 11 other ventures that participated in the program can be found here.
ABOUT VILLAGE CAPITAL
Village Capital is a venture capital firm that finds, trains, and invests in entrepreneurs solving real-world problems. Since 2009 we have been an active early-stage investor, investing in over 70 ventures across 15 countries and supporting hundreds more through our collaborative venture development programs. Ventures we have trained have leveraged initial capital 25:1, created over 10,000 jobs, and served over 6 million customers. For more information, visit http://www.vilcap.com and follow @villagecapital on Twitter.
ABOUT THE KRESGE FOUNDATION
The Kresge Foundation is a $3.6 billion private, national foundation that works to expand opportunities in America's cities through grantmaking and social investing in arts and culture, education, environment, health, human services and community development in Detroit. For more information, visit http://www.kresge.org.