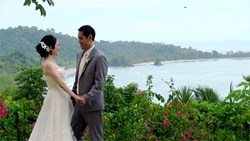 "The view is simply breathtaking."
- Jina
(PRWEB) August 20, 2013
What bride-to-be hasn't fantasized about a tropical beach wedding? What groom-to-be can't imagine himself getting hitched in linen trousers and flip-flops? Destination weddings have become more and more popular in the past few years. While beach weddings aren't a new phenomenon, getting married on a pristine beach in Manuel Antonio, Costa Rica, has become more accessible than ever. And it can be done in style.
Costa Rica's finest vacation rental villa—Villa Vigia—is now open for weddings and other small events. The venue is an elegant, Mediterranean estate with 4 bedrooms, 5.5 bathrooms, and sleeping up to 12 comfortably. The location is an exclusive point in central Manuel Antonio, with over 2 acres of lush rainforest—and no visible neighbors. The view is the type that most luxury hotel owners fantasize about—two miles of Manuel Antonio beach, the bay, Manuel Antonio national park, Cathedral Point, and all of the islands. Guests can check the tide from their bedrooms before grabbing their surfboards and heading down.
What better backdrop for the most important day of a bride and groom's life?
Costa Rica adds a rustic spice. A beach wedding in Manuel Antonio is an elegant and unpretentious thing-- like drinking champagne barefoot. Sand gets between ones toes and salty surf water laps at ones feet. The orator needs speak over the sound of the waves in the background. The air is pervaded by the smell of perfume, and sea, and tiki torches. A veil of misty, sunset light sets everything ablaze…
Villa Vigia's first newlyweds—Gina & Alex—couldn't have scripted a more idyllic wedding: It was a beautiful day. The sun was shining, and the lotus pond was decorated by explosions of lavender and pink. Parakeets and flycatchers sung in the surrounding forest. Iguanas and geckoes watched curiously from the periphery.
Gina & Alex introduced Vacation Buggy to beach weddings. Many couples prefer to have the ceremony at the beach and the reception in the comfort of their vacation rental villa. A decorated Vacation Buggy is a fun and adventurous way to get from Point A to Point 'Beach' in tropical style.
When the ceremony was over, the uninvited guests made their appearance at the villa: A troop of several dozen titi monkeys descended from the surrounding rainforest to the pool area. A couple even posed for the camera.
The whole idea of a wedding is significance, union and beauty. The who and when are decided. The where is the question. And as for wheres--Costa Rica sets a spectacular stage.
Years later, when the bride and groom's friends ask where they got married, what will they say? 'In a church?' or 'On a beach in Costa Rica at a beautiful, Mediterranean villa overlooking the Pacific Ocean?'