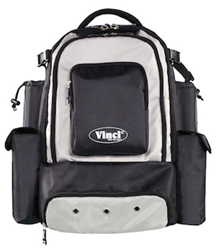 Our goal was to make a durable, quality bat bag for a reasonable price. This bag is a great compliment to our high quality baseball and softball gloves.
Richmond, VA (PRWEB) October 28, 2014
Vinci, makers of high quality baseball gloves and equipment, announces the launch of its first bat backpack and a special introductory offer.
The Vinci Bat Backpack is a stylish all-in-one carry system for ball players everywhere - from little league baseball to the softball field to the college diamond.
The Vinci Bat Backpack offers a variety of key components, including a waterproof bottom, a large compartment for helmet and gear and an ergonomic design with padded shoulder straps. It includes double heavy-duty fence hooks for hanging with a separated zipper opening and storage pocket. Breathable mesh padded backing allows for the comfortable transportation of equipment. The bag is designed to hold up to the weather with a waterproof bottom that makes it easy for cleaning.
"After years of research, we've come up with a bag that can be used by most all ages," says Peter J Vinci, CEO of Vinci. "Our goal was to make a durable, quality bag for a reasonable price. This bag is a great compliment to our high quality baseball and softball gloves."
At 21.5" X 15" X 9", the Vinci Bat Backpack is large enough to carry two bats, cleats, gloves, uniform with room to spare for a laptop. The drop down ventilated shoe compartment fits large shoe sizes. The removable cell phone case on back strap can accommodate almost any phone.
The front pocket fits baseball glove and batting gloves with an inside mesh pocket and a shelf to place the glove during game.
The only thing the bag doesn't deliver is a space for users to change into their uniforms!
"The response from friends, kids, adults, Major League baseball players and major sports equipment buyers has been phenomenal," Vinci adds. "Pictures don't do this bag justice, once people touch, see and feel it, they get hooked. Our photographer put it on his back, and he immediately said, 'I want to buy one."
The Vinci Bat Batpack is also already getting rave reviews through Dicks Sporting Goods website, where initial sales have been better than expected.
In November 2014, the Vinci Bat Batpack along with 40 other products will be featured on Kohls.com.
Vinci explains, "After speaking with the Kohls buyer, interest in the Vinci bat pack was what put Kohls over the edge to sell Vinci products on their website. Along with fielders gloves, batting gloves, sunglasses and our miniature gloves."
Special introductory pricing is $89.95 at Vincipro.com.
As an introductory offer until November 3, 2014, purchasers of the Vinci Bat Backpack through Vincipro.com can receive 20% off any additional items in their order.
About Vinci
Vinci is a family-owned and operated sports equipment company dedicated to quality. A number of minor and major-league baseball players use Vinci equipment. For additional information, visit http://www.vincipro.com