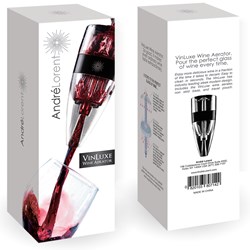 Viewers can also take advantage of a special 25% discount code shared at the end of the video.
Victor, NY (PRWEB) February 06, 2014
Yesterday's world premiere of the video for the VinLuxe Wine Aerator has resulted in excellent feedback to the company, says André Lorent founder Ben Cummings.
"We've had an enormous number of people contact us after watching the video," says Cummings. "It's been great to talk to customers that have recently purchased the VinLuxe Wine Aerator, as well as those that were unaware it was available until they saw the video."
The VinLuxe Wine Aerator has only been on the market since the holiday season, but has already created quite a stir in the wine-lovers' community. The VinLuxe Wine Aerator makes it possible for users to fully aerate their wine in just a few seconds, rather than having to let it air naturally for as long as thirty minutes.
Cummings explains that the majority of the VinLuxe's initial sales came through Amazon.com and was prompted by word-of-mouth from wine lovers who had been involved in early market testing. "We did a number of taste-tests with the VinLuxe Wine Aerator before we released it to the marketplace," says Cummings. "We were really pleased with the great feedback we got from those tests, but were somewhat surprised to see the word of mouth spread about the VinLuxe."
While the VinLuxe has been very well-received by wine lovers who heard of it through word of mouth, Andre Lorent wanted to spread that word a bit further. The vehicle they chose to do that was the new video. According to Cummings, the response to the video has been just as pleasing.
"We've gotten so many great comments from people who've seen the video and decided to buy the VinLuxe, as well as people who already own the VinLuxe but wanted to check the video out as well to see it demonstrated," he explains.
The video is being shown only on YouTube.com. Viewers will also be able to take advantage of a special 25% discount code shared at the end of the video. This special code is only available through the video and for a limited time, to mark the video's premiere.