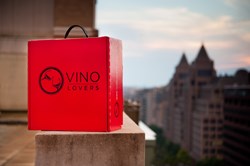 Vinolovers is democratizing the wine industry by bringing boutique wines directly to the consumer.
Washington, DC (PRWEB) September 10, 2013
Vinolovers, a personalized wine subscription experience that gives consumers exclusive access to boutique wines based upon personal taste preferences, launches in DC next month.
"At Vinolovers, we know that everyone's palate is different, which is why we've created a wine club that celebrates individuality, inspires the pursuit to learn more about wine, and allows people to drink great wine from across the globe," said Vinolovers Founder and CEO, Justin Harrison. "With 80% of wine available in retails stores sourced from only 20% of the wineries worldwide, Vinolovers is democratizing the wine industry by bringing boutique wines directly to the consumer."
The Vinolovers experience includes a palate assessment tool which helps consumers identify their preference for basic wine characteristics, and from there a team of curators uses those results to make personalized wine recommendations. Harrison had a simple mission in mind when he founded Vinolovers -- to make the wine experience more educational, convenient and tailored for wine lovers.
As a member of DC's largest startup hub, 1776, Harrison views DC as the best location to launch Vinolovers because of the blossoming tech scene, and because it has the nation's highest per capita wine consumption.
"Not only is there already a strong community of wine lovers here in Washington, but Virginia's emerging wine country is right in our backyard," Harrison explains. "I am excited about the possibility of working with these award-winning vineyards to showcase Virginia wines in our collection at Vinolovers."
To celebrate their upcoming launch, Vinolovers is hosting a preview party this Thursday evening, September 12, at the 1776 campus from 6:30pm-9:30pm. The evening will feature a curated wine and food pairing with edibles provided by R&R Catering. Tickets are available via http://vinolovers.eventbrite.com.
For more information and updates about Vinolovers launch, please visit: http://vinolovers.com.